Anariel Lite: Free WordPress LifeStyle Blog
Anariel features not only a modern and minimalist design, it is also a standout free WordPress blog theme for one reason: the focus is on YOUR content first and foremost. We decided to release it also as LITE version so you can first take it on a test drive before deciding whether it's a good choice for you. But if you don't need premium features and are satisfied with what this version has to offer, you can keep using it forever with no limitations. Anariel Lite is licensed under 100% GPL. So start your blogging journey with a great WordPress blog theme.
Anariel is a classy and modern WordPress Fashion Blog for all the Bloggers out there who strive towards minimalism. Its retina ready and fully responsive design will look amazing and work fluently on all the devices, mobile, tablet, and desktop. To save time and start your online experience even easier and quicker, Anariel comes with 6 pre-defined demos that you can install with one simple click of your mouse or trackpad.
Download Anariel Lite For FREE
LIST OF OUR FREE WORDPRESS THEMES
In case Anariel is not what you are looking for and would prefer a different design or functionality for your website do check out our other Themes:
Or check our big collection where we compare and describe many of them and explain why they might be a good fit for your blog. Who knows, you might just find a perfect one for your website.
HOW TO SETUP ANARIEL THEME
We just prepared a thorough guide about how to properly install Anariel Lite and its demo content. Be sure to check it out if you are unsure how to proceed with your installation and if anything goes wrong. There is also a special section that sums up all the benefits of the premium version if you ever need more from your Anariel Lite.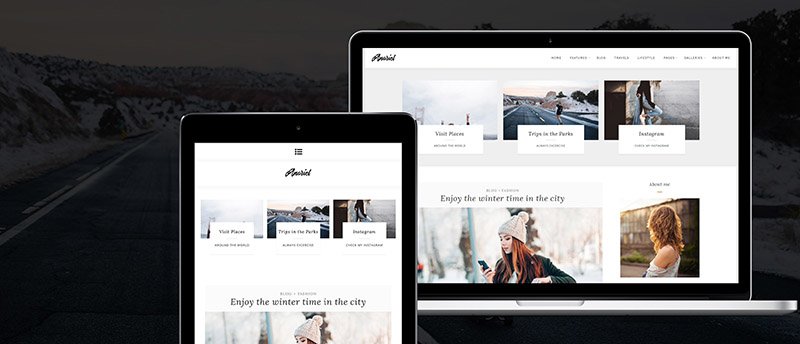 Download Anariel Free WordPress Blog Theme
We offer our customers a demo version of the Premium Theme. Some settings (like color changing and Revolution Slider) are disabled in theme's options. This way you can try the Theme out and if you really like it and would like to enjoy all the features it has to offer, you can buy it later on. There are no strings attached whatsoever, if the free version is enough for your needs, you can continue using it forever, with no extra limitations added over time. Click on the button below to get your copy of Anariel Lite. We hope you enjoy it very much!
LIVE PREVIEW
To see how beautiful Anariel really is, click on the button below and check out the live demo.
PREMIUM VERSION
If you like Anariel Lite and think that it would be a good solution for your blog, please also take a look at the premium version. For everyone that likes out Anariel Lite, we are offering 30% discount for the premium version.
DISCOUNT CODE: anariel-lite
EXTRA FEATURES FROM PREMIUM VERSION
While Lite version is fully functional, some perks can only be unlocked in the premium version.
Unlimited Colors
Choose from over 700 Google Fonts
6 different layouts (grid, fullwidth, different versions of default skin, …)
Automatic Updates
Premium Support
You can check how the Theme looks like with Premium Slider and in several different layouts, please check our LIVE PREVIEW FOR PREMIUM VERSION.
TYPOGRAPHY OF THE THEME
Typography plays an important role in web design, especially in minimal blog Themes. I wanted a font that has great readability and also some playfulness in it so the blog doesn't have a dull feel to it. Fonts are:
Lora Google Font for headings.
Open Sans Google Font for body and menu text.
Alentine Premium Font for the Logo.
RESPONSIVE & RETINA READY
Anariel is fully responsive and retina ready. It will look amazing on any mobile device.
Feature List of Anariel
Revolution Slider (only in premium version)
Essential Grid (only in premium version)
Grid, Fullwidth, Boxed and Default with Sidebar Layouts
Beautiful and seamless design
Fast loading
Google Web Fonts
SEO optimized
Made for readability
Creative Design
Video, Gallery, Audio, Standard and Link Posts Templates
Clean and Crisp Design
CSS3 Features and Animations
Detailed written help file
Email subscription
Instagram Feed
Facebook integration
Social Media integration
Responsive Mode
Gallery Posts
Full Page & Fixed width support
Shortcodes
Video embed
Full-Width Pages with Slideshow
Sidebar Pages with Slideshow
Audio Posts
Video Posts
Boxed version
Upper block on Homepage
About us block
Quote block
Instagram block
Unlimited colors (only in premium version)
Download Anariel Lite For FREE
In case you would like to do a little more research about free Themes and which one to choose, we prepared a great collection of Top Blog Themes for the year 2017. So you can choose the perfect new WordPress Theme for the start of your blogging journey.
FAQ
Below are some of the most common questions related to our Themes.
The theme is missing the style.css stylesheet – this is probably the single most asked question related to WordPress. It doesn't mean there is anything wrong with the theme, you just need to uninstall the first package. Inside you will find the Theme, documentation, necessary plugins, child theme, and demo content. So make sure that the file you are uploading is named simply anariel-lite.zip which is the main theme.
TUTORIAL ON HOW TO SET UP THE THEME
We prepared a short tutorial on how to set up the free blog theme and what are the advantages of the premium version.
PREMIUM SUPPORT
Support comes with the premium version of the Theme. You can purchase it from our Anariel dedicated product page.
Help with included 3rd party plugins and assets
Help with Theme installation and demo content set up (so the Theme looks like our demos)
Minor CSS tweaks
Other questions
THEME UPDATES
We regularly make safety and feature updates to make sure your website is secured and up to date.
CREDITS
During this project, we have used the following assets:
IMAGES AND ILLUSTRATIONS
DreamyPixel – for some of the most amazing high-resolution images on the web
LICENSING
Anariel Lite is licensed under 100% GPL.
Premium version of Anariel WordPress Blog Theme
If you like Anariel Lite and think that it would be a good solution for your blog, please also take a look at the premium version. Until then, have fun testing Anariel.
We really appreciate you for visiting PremiumCoding and reading this article! Now you might also want to check out
our Themes
here.