Top 20 CSS Galleries To Submit Your Websites in 2019
There are countless CSS galleries online today where you can submit your websites, themes, and designs. But most of them are either outdated or not even online anymore. So in this selection, I will focus only on the best ones with high domain authority and high traffic. I use these websites to submit our new WordPress Themes for some extra traffic and conversions. While most of these sites will only bring some extra visitors, some of them also have do-follow links which will help you increase the page authority of your theme's description page a bit. I will share our analytics data in the case of our free WordPress Theme, Everly, which was accepted in some of those galleries. Our premium Theme, Amory, even had some direct conversions from the gallery so it was definitely money well spent.
If it happens that you are in a hurry, here is our selection of top 6 CSS galleries:
While most of the galleries will post your website for free, some of the best ones use a small fee. I actually prefer the payable ones since they are more reliable and also bring a lot more traffic and conversions. If you would like to save some time you can also use services like CSS Gallery List which will submit your website to 100 galleries for a small fee of $49. But usually, these services do not include the most premium CSS galleries which yield the best results. So I normally combine this service with manual inclusion in the top galleries. This way we end up spending about $200 to $300 for submissions. We will focus on the results in the last part to see if the money spent was worth it.
Top 20 CSS Galleries To Submit Your Websites in 2017
I will start with the biggest and most renowned names that will give you the best results (most of them use paid submission system). I will also list domain authority for each gallery. Please note that most of the links are no-follow, but some galleries provide do-follow links and I will make that clear in the review.
By far the biggest and most popular gallery. Submission costs around $50 (40 EUR). Once your website is live, users can vote for it and if it gets a high enough grade it becomes a nominee. This means it can be selected as a Site of the day. Exposure is amazing if you can get to the final round, but the competition is fierce. Some of our best themes made it among the nominees but achieving site of the day reward is hard. We submitted 22 themes to the directory and received 9296 referral visits (in 4 years, spent $1,000). Brand awareness is important in this case also as it's the most renowned website of this sort, so I believe the money was well spent.
Domain Authority: 79
Another great website that will give you a lot of potential customers is offering paid submissions for $35. Each site submitted is professionally evaluated by CSSDA's highly experienced judging team based on the site's creativity, code, functionality, usability, and content. Approved sites are deemed Nominees and awarded a score. The submission process is similar to Awwwards website and if you make it to the final round the exposure will be great. According to their statistics, our Everly Theme received an astonishing 6560 views (from January 31st until May 3rd). This is great exposure for only $35. It's hard to measure whether the submission brought any conversions because the link leads straight to our demo page, but even a single sale is enough to compensate for the costs, not counting the extra exposure of our website and other WordPress themes.
Domain Authority: 61
Another neatly designed gallery with a lot of exposure and great potential. Submission is much cheaper (only $9) so it's great if you are on a tight budget, but would still like a decent amount of views from an authoritative gallery. We submitted 4 themes from our own market this year and received 142 visits directly on theme's description pages on our market. I believe that's a decent investment ($36 for 4 themes).
Domain Authority: 51
This gallery offers three different types of submissions (Standard, Theme and Premium). Price varies from $19 to $79 and you can check on their submission page what each type has to offer. According to their statistics, our Everly Lite listing was viewed 2353 times. Our Google Analytics shows that from those visits 37 clicked on our product page. Please note that I've chosen the standard submission. The price might be a bit steep for only 37 visits so it's up to you to decide whether it's worth the investment.
Domain Authority: 48
Another premium gallery and one of my favorites. Submission for a Theme costs $60 and you are refunded if it's not accepted. I submitted four themes to the gallery and only two were accepted (Amory and Ragnar). The results are pretty great as the themes received 1123 direct visits so far and even 3 months after the submission they still get about 10 visits per day. I can also confirm that it resulted in at least two conversions. Submission price might be high but I do recommend their services. It's one of the best CSS galleries to submit your work, too.
Domain Authority: 55
It's a fairly new website but it's progressing quickly. You can submit websites, themes, games and applications. They offer three different types of submission (Free, Premium – $10 and Sponsored – $25). In return for a paid submission, they provide a do-follow link which is a great extra bonus. Domain authority is not as high as some of the galleries described above have it but it may rise in the future as the website's traffic is progressing nicely.
Domain Authority: 30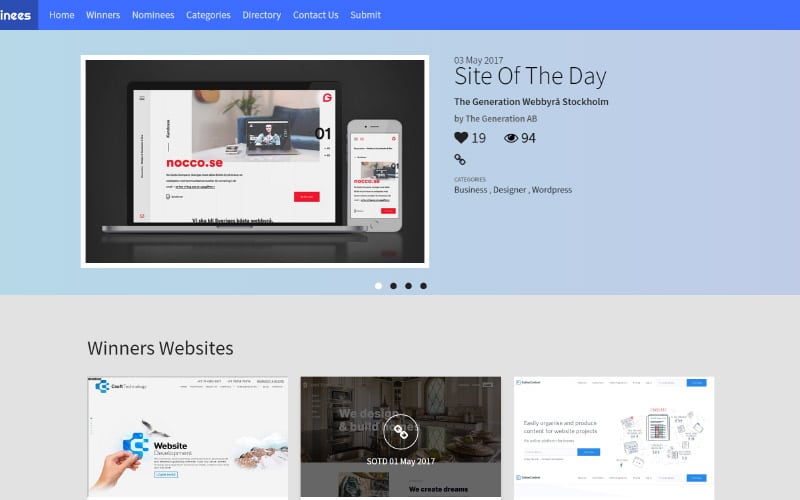 It's a fairly new gallery which also offers three different submissions (free, standard and express). I submitted one theme to the gallery, but it wasn't reviewed yet. I will share more data once it's approved.
Domain Authority: 32
Another fairly good gallery with nice design which offers four different kind of submissions:
Apparently, gallery owners are also helping each other with the promotion. If your design is accepted it will be featured on the website, Facebook, and Twitter account.  If you provide your Twitter handle, they will also mention you when they publish your submission.
Domain Authority: 26
This is probably the best gallery for one-page websites and themes. With over 10k daily visitors your design will be seen by thousands of potential customers. I didn't upload any of our Themes to the gallery since we don't have any good one-page themes, but it's a great opportunity for everyone that loves to make one-page themes or templates. They will also feature your design on all their social networks. The submission costs $49 and is a very good bargain for the amount of exposure that you receive. And you also receive a do-follow link in the process. They claim that all of their featured templates made at least one sale.
Domain Authority: 54
They offer free submissions and the design of the website is modern and clean. I submitted our Everly Theme but it's not reviewed yet, so I will be back with results later when I have some statistics to share. It looks promising, though, and hopefully, the submission will lead to decent exposure. I really like the name of the website also.
Domain Authority: 58
It's one of the biggest CSS galleries and the submission is entirely free. The submission is very fast since you only have to add the URL to your website or theme. Apparently, they receive over 200 submissions per day so chances of getting published are pretty slim. The design really has to be unique, clean and fresh. I submitted two of our themes but they weren't reviewed yet.
Domain Authority: 60
This one has a very high domain authority and about 500 daily visitors, so it belongs among the better galleries. Links on the website are also do-follow which is a great bonus. Currently, our themes are still in the review queue, so I will get back with results if they are approved.
Domain Authority: 63
It's one of the oldest CSS galleries out there and I have been submitting to it since the beginning of my WordPress journey. The exposure is really great and you will get a lot of new visitors. Submission costs $10 and is among the cheapest premium galleries. In April we received 1054 clicks from CSS Mania which is the most from all the galleries. I haven't noticed any conversions so far though, so for now it's more about your website general exposure and not about direct sales.
Domain Authority: 55
A premium gallery that only accepts the best of the best. Usually, they only allow one design per day so if your design is picked it will stay on the front page for a few weeks. And, of course, that's great for exposure. Submission is free and the link is no-follow. The review queue is long and it will take over 30 days for your design to be published.
Domain Authority: 35
A smaller website but probably still worth it since you get a decent do-follow backlink. They offer three types of submissions (free, standard and premium). Quality backlink is only available in the premium version. I just submitted our Everly WordPress theme to the gallery and still waiting for it to be accepted.
Domain Authority: 45
Just like One Page Love this gallery only accepts one-page websites. You can read more about which kind of websites they accept on their submission page. It's completely free and worth submitting to if you have a great one-page website.
Domain Authority: 36
A smaller gallery with really fast submission (you only need to provide your name, email and website URL) so it doesn't hurt to submit your design for a few extra clicks.
Domain Authority: 34
I just discovered CSS Light a few days ago and submitted our Everly Lite theme to the gallery. It was approved really fast and in 3 days it received over 250 views on the website and we received 20 click throughs to Everly's description page on our website. I selected the premium submission for $15. They are also offering a free submission (takes up to a week for review) and Sponsored submission for $120 (I believe the price is to high for what they are offering).
Domain Authority: 36
They offer free submissions only and I am still waiting for our themes to be reviewed. The website looks promising with decent readers base and the exposure should be pretty decent.
Domain Authority: 40
Only minimal designs, please. Siiimple specializes in clean and minimal websites with as few design elements as possible. It's a niche gallery and is great if your designs are a fit to what they are looking for. I submitted a few of our WordPress themes, but they are still in the review queue.
Domain Authority: 49
The list of CSS galleries is a comprehensive one as I found over 100 galleries where you can submit your designs too. Most of them are not worth the effort and time as they either have almost no visitors or have been abandoned for a long time. So I reviewed only the best ones that give real results (visitors and conversions). I will update the list with newer analytics data and with new CSS galleries. A lot of them are still waiting to be discovered. 🙂
Our Submission Process
The process of submitting to all the galleries can be very tedious and can take you hours (believe me, I've been there a lot of times). So another option is to use a service to submit to numerous galleries at once. Websites like The CSS Gallery List are offering a service to submit to over 100 galleries for only $49. And according to them, all the submissions are done manually by their team. I used their service a few times and can only recommend them. They are fast and efficient. The problem is that the best CSS galleries reviewed above also have premium submissions. In my experiences, these submissions are much better and generate great results. So I usually combine the services. I submit to all the premium CSS galleries manually and after that, I also purchase the Gallery List submission for $49. I usually end up spending $200-$300 for the promotion of our new WordPress Themes which are released on 6 weeks interval (approximately). So the yearly cost of the promotion in CSS galleries is about $1500.
Future Updates
I will update the article frequently as new analytics pour in. The most important aspect of these submissions is what you (we) get for our time and money. I will also proceed with the neverending search for new websites where you can efficiently promote your designs. If you have a suggestion about a great CSS gallery that I missed, please post it in the comment section and I will review it. Thank you very much for reading and I hope your submission process will be a bit faster from now on.
We really appreciate you for visiting PremiumCoding and reading this article! Now you might also want to check out
our Themes
here.