BRIXTON V4.0 IS THE BIGGEST UPDATE YET
Brixton has been one of the best selling WordPress Blog Themes on Themeforest for over a year now. That's why we decided it's time to take it to another level and bring some great new features.
Don't worry, all new features can be turned on and off. Everyone who likes Brixton just the way it is, your design will be intact. We believe that the original design must stay the same so that people who love the vanilla design won't be disappointed with version 4. 🙂
BRIXTON WORDPRESS BLOG THEME V4 NEW FEATURES
Let's see what some of the most exciting new features are:
Revolution Slider (extra $19 value)
Several new Sidebar options
Brand new Widgets
Improved speed
Minor CSS fixes
Background image for the header
Video Widget
Magazine Style
Amazing Revolution Slider
With the inclusion of Revolution Slider, we wanted to bring a new level of interactivness to the Theme if you need it. In the world of WordPress who doesn't know the most renowned and modern Slider?
Slider Revolution is an innovative, responsive WordPress Slider Plugin that displays your content the beautiful way. Whether it's a Slider, Carousel, Hero Scene or even a whole Front Page, the visual, drag & drop editor will let you tell your own stories in no time!
But like with all other features if you don't need it, you can simply choose not to display it and your theme will stay exactly the same. Our demos show some different usage examples but options are almost endless. Check their home page to see a lot more variations of the usage of revolution slider.
New Sidebar Options
For users that would like to include more content on the home page we added several (6) new Sidebar Options:
Left Sidebar under Header
Right Sidebar under Header
Fullwidth Sidebar under Header
Left Sidebar above footer
Left Sidebar above footer
Fullwidth Sidebar above footer
Each sidebar can contain one or more widgets. The best examples where we show what can be added to Brixton are:
In Magazine style demo, you can check how widgets are positioned before and after the main blog part. Extra content can be anything from a simple post slideshow to video widgets for your interactive content. And you can further divide content with Revolution Slider widget for an even more "magazine like" feel. The other preview shows how the Theme looks without the main blog part, with widgets only.
Brand New Widgets
We prepared several new widgets for this release for a more interactive look and feel of the theme. Posts are now presented with a slideshow and you can add single posts to your sidebar. Video widget will help you with your interactive presentation. You can add Youtube, Vimeo and even self hosted HTML videos.
Conclusion
It's needless to say that this is by far the biggest update of Brixton so far. We listened carefully to your suggestions and feature requests and together we built Brixton V4.0, an innovative mix of blog and magazine Theme. And for the first week after release we even lowered the price to only $34. A perfect opportunity to update your website with a modern and elegant new design.
Previous release Brixton 3.0. Version:
Blog is the core of every good WordPress powered website. It all begins with storytelling. Brixton brings a unique style, loved by hundreds of happy customers! Brixton is our best selling WordPress blog theme. It was released almost exactly one year ago and it was the 3rd best selling blog theme in 2015 on Themeforest.
It was time for a next major update to make the theme ready for 2016. Don't worry, nothing major in terms of design and all new features can be turned on/off. So everyone that likes it just the way it is, your design will be intact.
Let's see what some of the most exciting new features are:
Improved design of slideshow in the gallery post
Search in the top bar (can be turned off)
Facebook widget in the sidebar
Audio post is now done with Soundcloud
Social share icons added in the sidebar for improved social sharing options (can be turned off)
Improved SEO
Improved responsive design
Option to have a big 728×90 AD in the header (can be turned off)
With the new features with prepared two exciting new demos, just to see what you can do with Brixton. Click on the images below to see both previews.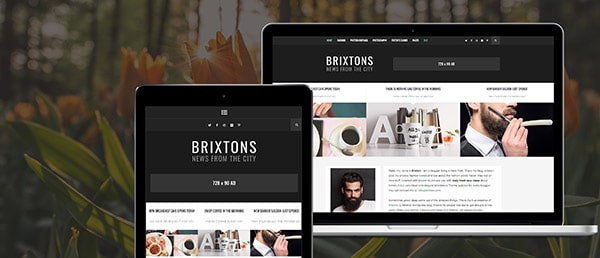 We hope you will like the new features of Brixton. If you have any suggestions for cool features that you think would be a great addition to Brixton, let us know.
We really appreciate you for visiting PremiumCoding and reading this article! Now you might also want to check out
our Themes
here.