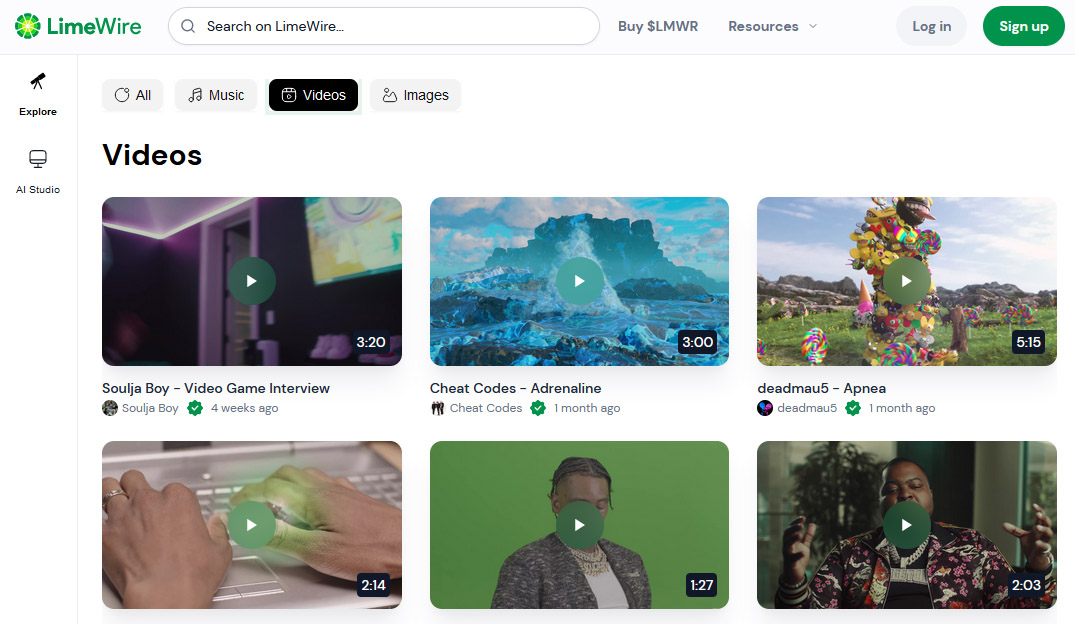 LimeWire's Transformation: From File-Sharing to AI-based Content Creation
LimeWire, the once-popular file-sharing platform, has taken a leap into the future. It has reinvented itself as an innovative AI-driven content creation and community platform.
LimeWire AI Studio, the company's latest venture, has been launched, focusing on AI image generation. The company has plans to expand its offerings to include generative AI music and video content soon.
And I was very intrigued to see what they came up with.
So, let's dive right into what Limewire was in the past and what it has become to adapt to the future.
LimeWire's Journey: A Brief Overview
As a pioneer in the P2P file-sharing space, LimeWire significantly impacted the digital landscape. It was one of the first platforms to democratize access to music, making it possible for anyone with an internet connection to download songs and albums directly from other users. This, coupled with its user-friendly interface and powerful search functionality, made LimeWire a darling among music enthusiasts.
Known as a major file-sharing platform similar to Napster, it was widely used for sharing and downloading files. However, the intellectual property of LimeWire was bought over by Julian and Paul Zehetmayr in 2021. The new owners raised a substantial sum of $10 million through a private sale of their native LMWR token to notable investors like Kraken Ventures, Arrington Capital, and GSR.
"With the launch of the LimeWire AI Studio, we will now lower the entry barrier for anyone to become a content creator and start their creative entrepreneurial journey." – Marcus Feistl, COO, LimeWire
AI Studio: A New Chapter for LimeWire
In the era of artificial intelligence, LimeWire is returning with the LimeWire AI Studio. This innovative platform represents a significant shift in LimeWire's business model, transitioning from P2P file sharing to AI-based content creation.
And we all heard the hype about AI lately, right?
The LimeWire AI Studio leverages advanced artificial intelligence models to generate unique, high-quality content. This includes music, visuals, and other forms of digital media. The LimeWire AI Studio aims to democratize content creation, enabling anyone to generate and share their own AI-generated content.
To support this goal, LimeWire AI Studio offers a variety of models, including SDXL, SD 2.1, and DALL-E2. These models are designed to cater to different types of content creation, providing users with the flexibility and tools they need to create their own unique digital media.
Currently, it offers AI Image Generation, and users can soon create full music tracks and sophisticated video content using AI. They are also working on its proprietary model, which is set to be announced in September.
I think this has great potential in the upcoming years as more and more people will use AI as a tool to create their own unique content.
LimeWire Token: LMWR
The company has also ventured into the realm of cryptocurrency with its utility token, LMWR.
This token can be used to pay for prompts, earn ad revenue share for AI content, and more. For those interested in trading, LMWR can be bought and traded on many large exchanges, including Kraken, ByBit, and UniSwap.
I think it makes perfect sense to use their own token to distribute commission fairly among the creators.
In a time when getting paid for your content is getting harder and harder, most will welcome this.
LimeWire Allows Users to Automatically Mint AI-Generated Content as NFT
In the world of digital art and content creation, NFTs have emerged as a revolutionary concept. They offer a way for creators to authenticate, sell, and own unique digital assets on the blockchain.
By integrating this feature into the LimeWire AI Studio, they're enabling users to harness the power of NFTs for their AI-generated content.
When users generate content using the LimeWire AI Studio, they can mint it as an NFT.
This process creates a unique digital token on the blockchain representing the content. The user then owns this token and, by extension, the rights to the content.
As you can see from the image above, the process is very simple and straightforward.
I uploaded one of my images and set the title and the blockchain to (Polygon).
After publishing your content, you can also sell it and share it with your audience.
This feature not only offers a new avenue for monetization but also provides a way for users to establish ownership over their AI-generated content.
It represents a significant step towards a more decentralized, user-centric content creation and distribution model.
Create Your Image With AI
What if you don't yet have an image to upload?
Don't worry, as AI and Limewire will come to the rescue.
They built an advanced image creation process similar to Midjourney, where you can make your image by describing exactly what you want.
I wrote the following prompt to make the image: "Blooming tree in the spring with flowers in the foreground and mountains in the background. Sun is setting behind the mountain."
The AI then generated four different images for me to choose from.
Please note that this is only the free version of the tool and that the quality and details are limited to 50/100.
The premium version also offers different generation models:
In the end, I am pretty happy with the result, and with a little more tweaking and a better description, I am sure it would look even better.
Especially in the premium version.
In general I really like the image generation process. It's simple and minimal, yet enables you to be very creative in the process.
LimeWire AI Studio: Pricing Details
And let's see what that will cost you.
While the basic version of LimeWire AI Studio is free, the platform offers paid subscription plans for additional prompts, more models, and various other features. The pricing ranges from $9.99-$99.99/month, depending on the subscription plan.
LimeWire has an Ad-Revenue Sharing Feature Built In
In addition to the NFT feature, LimeWire AI Studio also has an ad-revenue sharing feature built in. This feature allows users to earn revenue from ads displayed on their content. It offers another way for users to monetize their content while incentivizing active platform participation.
Creators can automatically earn up to 70% of all ad revenue generated from people viewing their content. This revenue is paid monthly through LMWR, LimeWire's native token. This feature is a boon for creators, providing them a passive income source.
Unresolved Issues and The Way Forward
Like any technology, AI, too, has its challenges. A major concern is the potential for AI to produce uncreative content.
But just as people take photographs of the same iconic locations repeatedly, the same process applies here.
The more work you put into the image generation process, the better and more unique the image will be.
So, I believe LimeWire's transformation is a bold step forward.
And while they are a bit ahead of their time, the AI hype is proving that it's probably a step in the right direction.
LimeWire is positioning itself at the forefront of digital content creation by embracing AI and cryptocurrency.
Its innovative platform provides a unique opportunity for creators to experiment, innovate, and monetize their work.
We really appreciate you for visiting PremiumCoding and reading this article! Now you might also want to check out
our Themes
here.