17 Best Personal Blog WordPress Themes 2020
If you are ready to materialize your idea, these best personal blog WordPress themes will get you going in close to no time. To your luck, you do not need to be an expert anymore to be able to create a striking, compelling and impactful blog. Heck, you do not even need to know how to code and still succeed at it.
All the tools that you find in the comprehensive collection below sport a visual coding process. In other words, you will never need to touch a single string of code.
How cool does that sound?
Moreover, you will also not need to seek help from a professional coder nor a designer. Anyone and everyone out there can create a killer final product that will turn heads.
By choosing the personal blog WordPress theme that triggers your interest the most, you save yourself a ton of time and energy. Not to mention, you also do not need to worry about any of the technical aspects of a modern website. In other words, all the personal blog themes are responsive, cross-browser compatible, fast loading and optimized for SEO.
More or less, it only takes some clicking, dragging and dropping and you can already have your personal blog all set and ready to attract new readers.
If you are ready to proceed, waste no more time, take charge now and make a difference. You will be surprised by the simplicity and user-friendliness of each tool. However, the outcome will always be of the highest degree.
If you are in a hurry, here are our top 3 personal blog WordPress themes:
| | | |
| --- | --- | --- |
| THEME | TYPE | RATING |
| Valkyrie | A Creative Lifestyle WordPress Blog | 4.98 |
| Laura | A Modern Feminine WordPress Blog Theme | 4.63 |
| Everly | Responsive Hipster WordPress Blog Theme | 4.41 |
Valkyrie

Starting a personal blog need not be complicated nowadays. In fact, it is pretty damn easy. All you need is a carefully designed and developed personal blog WordPress theme, and you are good to go.
As simple as that!
This allows you to avoid starting the project from scratch.
One killer tool that will put you right on track is Valkyrie. This creative, modern and attention-grabbing web design is packed with goodies and predefined layouts. You will find six different home pages that you can activate with a single click. From then on, you can use Valkyrie out of the box or improve and personalize it further.
Sigurd

Sigurd is a unique, modern and easy to use personal blog WordPress theme with four ready-made samples. It is a tool for writers with an emphasis on your content first and foremost. With that in mind, Sigurd guarantees a distraction-free experience that will engage everyone. Moreover, Sigurd is also compatible with all devices, modern web browsers, retina screens and popular plugins. While Sigurd works flawlessly as is, you can also enrich it with your creative touch and other nifty additions. What's original about Sigurd is the fact that it works amazingly well without images. While the majority of tools focus both on text and images, Sigurd is the one that is text-first.
Laura

When kicking things off in the online space, treat yourself to a personal blog WordPress theme and make an immediate difference. Laura is a site canvas that aims more toward the feminine projects, still, you can easily go entirely against the norm with the tool. There are six predefined home pages and several inner layouts to start with. Mix and match the available and get things moving forward like a pro. For your information, you do not need to be an expert web developer to be able to use Laura. Since there is no need to know how to code, Laura is for users of all skill levels.
Everly

Everly is a spotless, modern and sophisticated personal blog WordPress theme with four different homes. The tool is also 100% mobile-ready, cross-browser compatible and in tune with modern retina screens. Not to mention, Everly is optimized for search engines and fast loading, too. In short, the performance will always be of the highest degree with Everly. Some other goodies of this nifty site canvas are Revolution Slider, CSS3 animations, Instagram feed and custom-made shortcodes. Start your personal project like a pro from the get-go by employing all the amazing perks of Everly. Make an immediate difference and get more eyeballs on your compelling articles.
Brixton
With six different demos at your disposal, Brixton ensures a smooth and flawless creation of a personal blog. This WordPress theme also comes with all sorts of amazingness that will do you well on your journey to success. But first, you should know that nope, you do not need to know how to code to have a chance to build a blog with Brixton. The tool ensures a codeless experience, so everyone gets the most out of it without a hitch. While you can start with Brixton as is and even keep it that way for as long as you want, you can also enrich it with your creative touch. Make an online presence that resonates with your distinct style.
Pixwell

Pixwell is a powerful solution that helps create a personal website easily and quickly. Do you need any experience to work with the tool? No. Pixwell is excellent both for someone who is building their very first blog or an experienced web developer. Several beautiful samples are available to put into play out of the box. Additionally, Pixwell comes with all the other necessary page layouts and multiple components. It is AMP ready, optimized for fast loading speed and SEO-friendly. A few other highlights include customer reviews, read it later, galleries and online shop integration (via WooCommerce plugin). Start on the right foot with Pixwell now.
Veen

If you would like to create a personal blog with a distinct touch to it, Veen is the ideal alternative for you. This user-friendly WordPress theme is great for separating your project from the masses and starting something new. You can choose from several front and internal page layouts and mix and match them accordingly. Moreover, you can also introduce your creative touch to it and style the default settings accordingly. You have complete creative freedom do design the outcome that is exactly to your liking. Other great features contain custom-made widgets, optimized code, sticky sidebar, lazy load and advertising sections. For more, take a peek at the live demo preview and experience Veen first-hand.
CosmosWP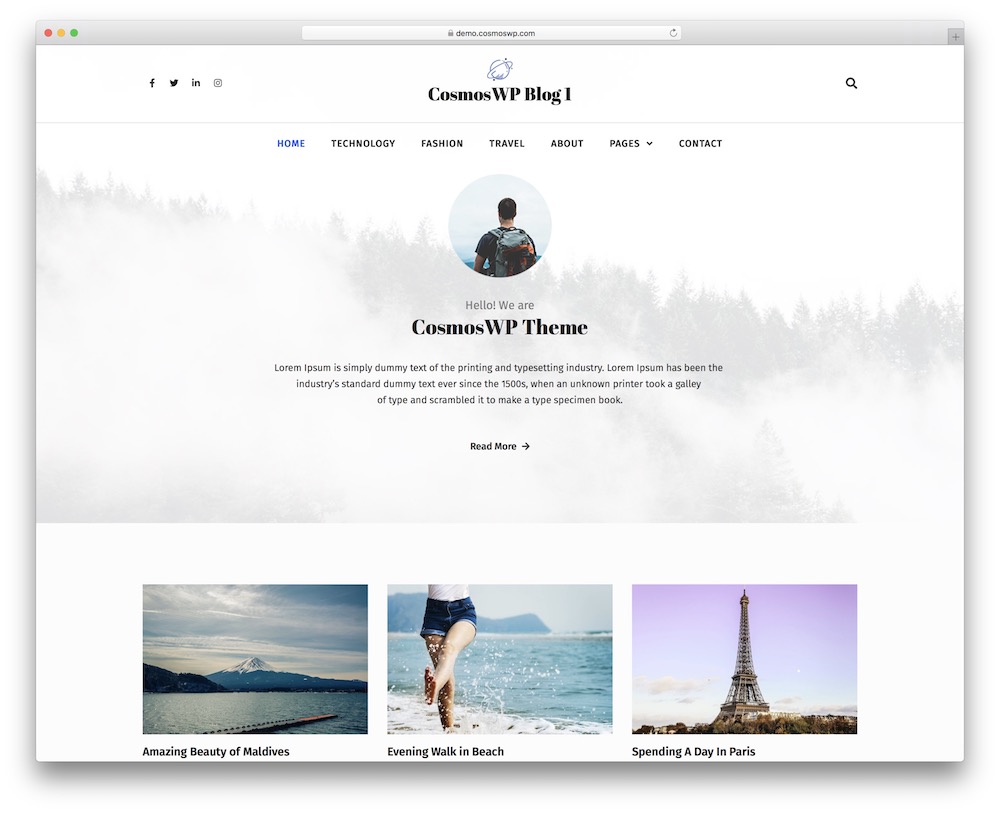 CosmosWP is a sophisticated, light and easy to use personal blog WordPress theme that you can use to start your project immediately. Instead of kicking things off from square one, you can now enter the world wide web swiftly. Keep in mind, when styling, customizing and personalizing CosmosWP, you will never need to touch a single string of code. You also get an array of demo material that you can put into practice out of the box or refine according to your liking. Some of the features of CosmosWP include news ticker, drop-down menu, full-screen search, sticky footer, pop-up sidebar and off-canvas sidebar, to name a few.
Johannes

With a massive portion of home page samples, Johannes is a spectacular solution for building a personal blog. Regardless of your style and taste, you will make it happen with Johannes quickly and effortlessly. Along with many index layouts, Johannes also comes with plenty of internal page designs for you to take to your total advantage. To keep it short, it only really takes three steps, and you can already start publishing articles with Johannes. In the bundle, there is all and everything to help you kick things off like a pro, even if building your very first blog. With Johannes, everyone wins.
Sitka

Sitka is a clean, creative and modern personal blog WordPress theme that equips you will all the necessary and then some. With the one click demo data installation, you can get things moving in the right direction right away. There are several samples to choose from, all unique and very appealing to the eye. The layout of Sitka is compatible with all modern devices, browsers, retina screens and plugins, too. Various practical widgets, WooCommerce friendliness, promo boxes and three header layouts are just a few of the extra specialties of Sitka. If you would like to set yourself apart and stand out a mile, let Sitka do the trick.
Brookside

Brookside is an all-in-one solution for bringing into being a personal blog. Keep in mind, with Brookside, you can even sell products online. Some of the features that Brookside includes are five headers, seven post layouts, Slider Revolution, custom-made widgets, sticky navigation, live search and social media icons, to name a few. Needless to say, Brookside practices all the latest trends, ensuring a top-notch blog performance across all devices and browsing platforms. Even if you would later like to expand your blog with different topics and niches, you can do that with Brookside seamlessly. Now get things going and realize your personal project once and for all.
Malina
Are you ready to get your blog going in as little as a few short steps? If so, Malina is the personal blog WordPress theme that you should take into consideration. With the quick demo import, you can put into play any of the eight demos and go from there. Of course, you can use the sample out of the box, add your details and be ready to rock and roll in little to no time. Moreover, thanks to Elementor drag and drop page builder, you can also perform any customization tweaks to Malina and make it follow your style to a T. For your information, you do all the work visually without ever needing to touch a single string of code.
Aileen
If you are on the hunt for a modern, creative and eye-catchy personal blog WordPress theme, Aileen is the one. This tool comes with unique elements and striking layouts that you can mix and match with your meticulous style. You will find all and everything that you need once you gain access to the magnificent Aileen. The list of features goes forever, but we will mention a few core ones. One-click demo data import, sticky header, back to top button, child theme, sliders, promo boxes, you name it, Aileen sport it all and a horde more. There are also several custom widgets and social media integration in the bundle for your convenience.
Akea
With three available homes and several internal page layouts, you can start online quickly with Akea. This site canvas has you sorted out in full, helping you approach the creation of a personal blog comfortably. First and foremost, you need to be no knowledgable coder nor designer to make good use of Akea. With all the available features and functions, as well as the drag and drop page building technique, you can successfully establish a distinguishing blog. And to get online with a live blog, it will pass very little time. Push the boundaries with Akea now and start making some noise on the web sooner rather than later.
Nimbo
To establish a strong and lasting first impression, Nimbo is the personal blog WordPress theme that does the trick. With its elegant and minimal look, your blog will ensure a flawless and distraction-free experience. What's cool about Nimbo is the fact that you can go with the light or the dark version out of the box. There are also three blog layouts, three single page styles, different (sticky) headers, social integration and even a full Russian translation. If you are ready to make a difference in your life, you better take action now, go with Nimbo and start an online project like a pro.
Melina
Keep it clean, modern and stylish, that's what's up when it comes to Melina. This personal blog WordPress theme is a tool full of amazingness for your convenience. From an assortment of different home styles to all sorts of different inner pages, you get it all and then some. While you can go with the out of the box version of Melina, you can also style the default look and enrich it with your signature touch. Keep in mind, if you would like to translate Melina, you can do that, too. Last but not least, every Melina user also gets access to friendly support and a lifetime worth of updates.
Once
Once you decide to go with Once, all the rest instantly becomes history. This powerful personal blog WordPress theme is, without question, for everyone. There is a ton of material available for you to cater Once to your regulations with ease. In the bundle, you will find six different demos to choose from, all original and creative. Moreover, Once is fully Gutenberg and SEO optimized, 100% mobile-ready and in tune with all modern web browsers. Auto post loading, GDPR compliance, video backgrounds, mega menu and many ad spots for monetization are just some of the features of the incredible Once.
We really appreciate you for visiting PremiumCoding and reading this article! Now you might also want to check out
our Themes
here.