9 Best Responsive Wix Templates 2021
If you look for the best responsive Wix templates, here are some that triggered our attention when reviewing their vast collection of hundreds upon hundreds of available site skins.
In short, Wix has a design that meets every users' interest. You can choose from all sorts of different niches, like blog, business, eCommerce, photography, portfolio, online education, and the list goes on.
There's a catch.
Even though all the templates already appear very stunning out of the box, you can use Wix's very own web development platform, Velo, to customize them to your heart's content.
Velo brings all the necessary features you need to start working on your next project with confidence. It is powerful enough to handle all types of applications you would like to bring to fruition, even social networks, membership websites, and SaaS platforms.
What's cool, there is no need to set up anything; Velo's visual UI editor is available to work with on the spot. This saves you additional time, which you can instead invest in making your website truly extraordinary.
Managing and deploying apps, hundreds of available elements, 3rd-party tool integration, well, you get the gist of it; Wix and Velo are here to change the way you build websites. Get creative now.
Top Responsive Wix Templates
Wedding Photographer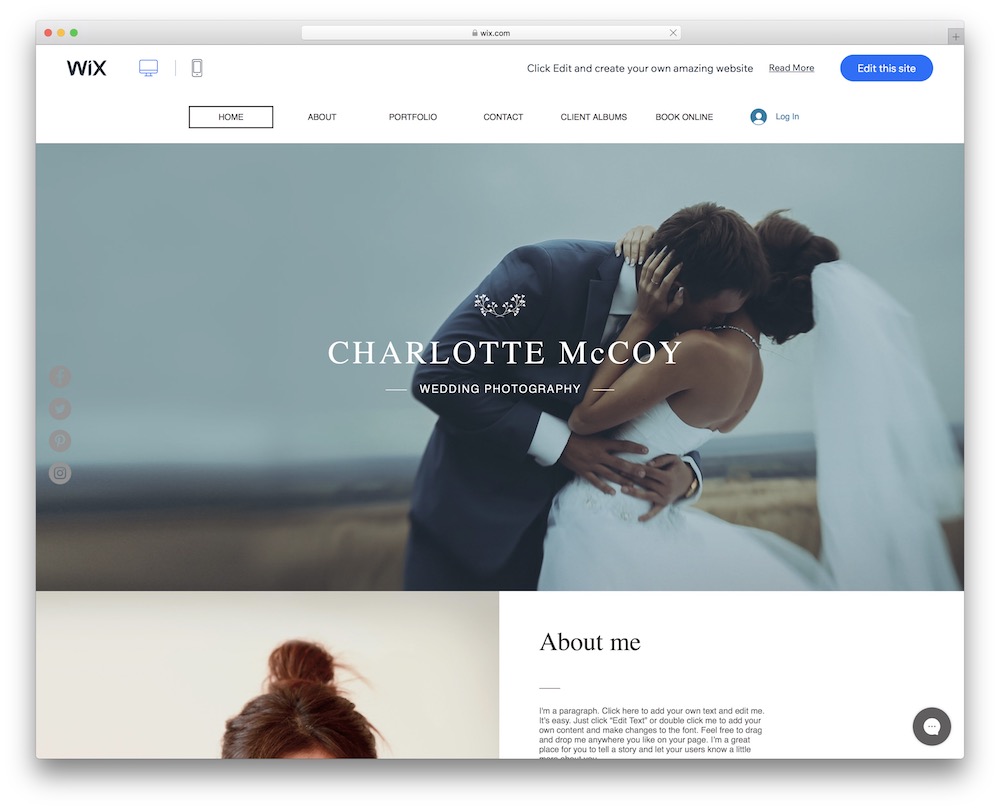 If you'd like to create a modern, powerful and engaging wedding photography website, this is the Wix template that will do you well. What's cool about the tool is that you can use it as is, however, we encourage you to fine-tune it further with the use of Velo.
Of course, you can fully customize and alter the default configurations, making the web design that you want. Not just that, but feel free to go the extra mile and include additional functions, page layouts, and whatever else your heart desires. The options and possibilities are right at your fingertips, so don't miss the opportunity.
Perhaps the greatest part of building websites with the help of Velo is that you can add a plethora of extended functionalities. For instance, if you are a photographer and would like to show your images with a close-up, you can use the Zoom-In effect and add it to your gallery. This will add a nice hover effect on every image with an animation that brings the image closer to the viewer.
If you are not completely satisfied with the way the zoom effect works you can adjust it within the Velo dashboard. You can change the animation by adjusting speed, scale and type of easing. This way you are in full control of every parameter of the feature you want to use.
Food Photographer

If you particularly specialize in food photography, hence the name, this is the site canvas that will do you well. It rocks all the necessities by default, but here's where the fun begins.
Wix, Velo, and the template unlock unlimited benefits that you can translate into a well-thought-out website. You can start with the editing process right away by using the convenient UI editor that saves you a whole lot of time and energy. Still, if you would like to improve code, that's also an option. Velo is here for everyone; whether you are a beginner or an expert, it just makes sure that all get the most out of it.
For example, great use of Velo in this kind of website would be to add a collapsible section. It is a great solution to present several recipes on a single page. Simply add the desired recipe to each section and you will have a nice condensed section where you can present all your vegetarian recipes in one place.
Landscape Photographer

Share your landscape photography with the world in a way that will impress and inspire everyone – with a superb website. Instead of starting from square one, you can now enjoy a responsive Wix template and Velo and get the ball rolling right away. You can enjoy the intuitive visual editor or even step things up with the coding work.
Moreover, thank's to Velo's flexibility, you can easily integrate your website with all sorts of tools and services. Start on the right track from the get-go, manage and deploy your landscape photography website and enjoy the sophisticated result sooner than later.
Personal Blog

Building a personal blog does not require any advanced coding and design skills. Still, when using Wix and expanding the possibilities with Velo, a lot is possible. This particular template already features tons of great features and functions that will raise your online presence to level eleven.
Parallax effect, sticky and transparent navbar, social icons and contact form are just some of the goodies. Of course, you can fully test things out first, make improvements, include different apps and the list goes on – you are here to make a difference. With Velo's development tools, a new world of potentialities will open in front of you.
Lifestyle Blog

You do not really need to be a pro coder nor designer when it comes to building your dream lifestyle blog. Wix and a dedicated template will do you well in an instant. However, you are welcome to take things to the extremes with the all-around, flexible and powerful Velo. This remarkable addition to the already spectacular Wix spreads the possibilities over and beyond.
With this template, you can now start like an expert and have a full-blown result ready to shine online in the snap of a finger. You can make as many tweaks and improvements as you want, ensuring your online journal follows your liking to a T.
Food Blog

Here is a mouthwatering responsive Wix template for all the food bloggers out there. Whether you would like to share recipes or write restaurant reviews, whatever your heart desires, you can now realize it. With the big and bold appearance, you will have no trouble triggering everyone's attention, especially once you introduce your tasty food photographs.
Parallax effect, bottom screen menu, newsletter subscription, social buttons, and sticky logo are just a few of the highlights you get. Bear in mind, if you'd like to make configurations, Wix's Velo development platform is available to change the game entirely.
In this case, you might want to add a custom mega menu to the website, so you can add images of food in the menu to present certain types of food to your viewers in a more interactive way.
As you can see the options are once again limitless. If you want to change any parameter of the menu, you can do so within the editor.
Photography Blog

As a photographer, amateur, or professional, you can use this Wix template to start online sooner than later. Instead of establishing one from the ground up, a predefined design will save you a ton of time and energy. Not just that, even when it comes to modifications, the amazing web development platform by Wix will do the trick. Why keeping it as is if you can fine-tune it to the very last detail?
Then and there, you can begin working on your blog masterpiece with all the different features and tools. You can also include your favorite apps if necessary and truly take your blog to the next level.
Do you want to notify your users that you just published a new set of images from your latest photography trip? You can do see seamlessly with alert messages.
It is very easy to add and edit a simple alert message that will alert your visitors that you just published a fresh story on your blog.
Women's Clothing Store

In their collection of hundreds of responsive Wix templates, there's something for everyone. And if you would like to create a fashion eCommerce website, of course, that's what you can do, too. No need to hold yourself back, as you truly can build what your heart desires.
While the predefined site canvas rocks many great highlights, you can also activate Velo and go over and beyond your online store creation. The development platform is no joke, coming with the necessary versatility to serve every user. You can save money and effort that would otherwise be necessary when starting from square one.
If you want to add a fun, yet useful functionality to your store, Velo can help you once again. Create a fun gift quiz for your customers so they can choose a perfect gift for their family, spouse, or friends.
Home Decor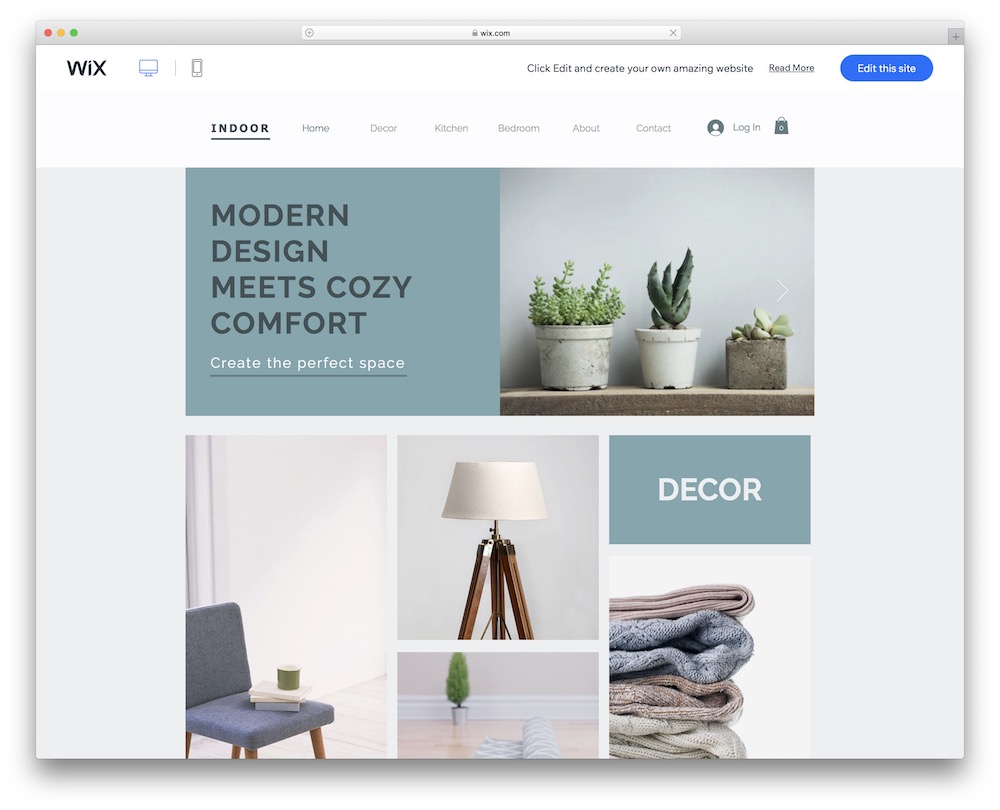 Here is a neat Wix template that did all the hard work instead of you for furniture companies and online shops. You only really need to focus on perfecting it and decorating it with your artistic touch. But really, you can do oh so much more if you go behind the scenes and start operating with Wix's full-stack web development platform. Needless to say, there are no limitations that may be holding you back from establishing your comprehensive eCommerce website.
Execute a new project like a professional, even if you just started venturing into the web development space. A lot is possible with Wix, Velo, and the ready-to-use templates.
We really appreciate you for visiting PremiumCoding and reading this article! Now you might also want to check out
our Themes
here.