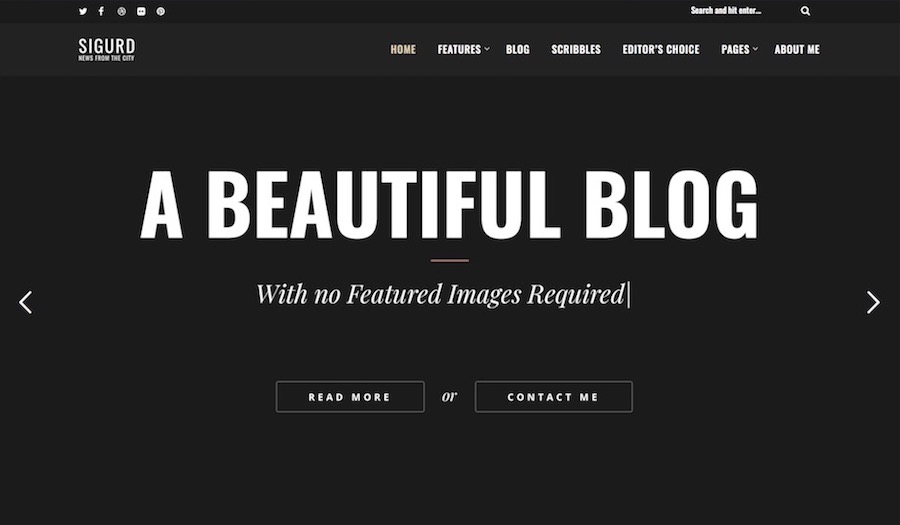 12 Best WordPress Diary Themes 2020
When you find yourself with an idea of having your own online project, pick a WordPress diary theme and call it a day.
After all, once you gain access to the theme that triggers your interest and suits your style best, you do not really need to do much to turn it into a functional website.
That's right, even if you happen to be a complete beginner, you still have a chance to start with the right foot forward. Have in mind, there is no coding necessary.
Now we have your attention, right?
Moreover, each WordPress diary theme also comes with an array of predefined front and inner page layouts, as well as plenty of features. You do not even need to trouble yourself with starting your project from square one. Heck, you only really need a WordPress theme, aside from web hosting and domain name, and that is basically it.
How cool does that sound?
Instead of spending countless hours scouring the internet to find the best web design, we did all the hard work instead of you. Below, you can find the best solutions that you can currently find on the market for building your very own online diary page.
Marjetka

If you are looking for the best WordPress diary theme, you better take a peek at Marjetka now. This easy to use, modern and attention-grabbing site canvas is perfect for starting a new online project without really needing any skills and experience with building websites. In short, Marjetka is for everyone, beginners and professionals. It also follows all the latest trends and regulations for the modern web. In other words, your Marjetka blog will be entirely mobile-ready, cross-browser compatible, fast loading and SEO-friendly. Some other goodies include eight blog layouts, Slider Revolution, Essential Grid plugin and six gallery types, to name a few.
Sigurd

Sigurd is a pretty unique WordPress diary theme as it comes without featured images. Yes, your blog can be entirely image-free and still look absolutely phenomenal. If you are looking for something different, Sigurd could be the ideal solution for your new project. All the writers out there, you are welcome.
Moreover, Sigurd comes with four different home page designs, offering you to find the one that suits your style best out of the box. In addition to that, you can also tweak the default settings and tailor Sigurd to your liking precisely. CSS3 animations, five blog post types, fast loading speed, sticky navigation, social media and drop-down menu are just some of the treats that come with Sigurd.
Laura

Laura is another jaw-dropping WordPress diary theme alternative that will do you well. Even if you plan to use it out of the box, a spectacular outcome is a guarantee. Needless to say, if you would like to personalize Laura, you can do that, too. Start by selecting from six different designs and go from there. Laura comes with all the necessary to help you kick off an online diary project immediately. And it will never ask you for any coding and design knowledge. Even as a newbie, you will still succeed at it with help from Laura. You get stuff like Slider Revolution, Instagram feed, newsletter subscription form, multiple inner page layouts, different gallery styles and catchy animations.
Everly

Starting your own thing online became pretty much a piece of cake. One thing is for sure, there is no need for you to have any coding and design knowledge to kick off your own online diary aka blog aka journal. With a tool like Everly, you can start immediately and have it all set and ready to rock and roll in close to no time. With all the very many goodies that Everly comes, you can freely use it out of the box, adding your personal touch to it and call it a day. No more excuses, just go all-in and enjoy the outcome.
Sitka

Sitka is everything one wants in a WordPress diary theme. From stunning home page designs to an array of inner layouts and other convenient features, Sitka rocks it all and then some. This site canvas is also in tune with all modern devices, popular web browsers, retina screens and search engines. On top of that, Sitka is also fast loading to ensure a striking performance at all times. Some other goodies of the theme include over nine hundred fonts, Gutenberg compatibility, social media integration and custom widgets, to name a few. If you are ready for a difference, now is the time to take things into your favor.
Lemars

Creating a personal diary or an online journal is a piece of cake with the right tools. Thanks to Lemars, you can start the process in the snap of a finger. If you dig the look, pick the predefined sample you fancy the most and go from there. In mere minutes, you can have a full-blow online diary all set and ready to impress the online audience. But do introduce your signature style to it if necessary, as you can perform customization tweaks without the need to do any coding.
The layout is 100% in-tune with mobile devices and popular web browsers, as well as SEO-ready and fast loading. And if you would like to translate it, you can do that, too. Tons of options that give you the complete creative freedom to make an outcome that is exactly to your liking.
Once

You only really need one tool to go about bringing into being a sophisticated and top-of-the-line diary website. Thanks to Once, you have it all available at your fingertips. From the design to the technical aspects, this nifty solution has you sorted out in full. To start with, you can pick any of the six available demos and enjoy the beautiful design that comes out of the box. While you can employ Once as is, you can also take things to a different degree by customizing it according to your liking. Start with the right foot forward and enjoy the user-friendly Once.
Brookside

Brookside gets the ball rolling with its several predefined home pages that you can take to your total advantage with the one click demo data import wizard. This WordPress diary theme comes with an array of specialties that will do you well. From five headers, two footers and seven post layouts to three galleries and sticky navigation, you get it all and more with Brookside. Of course, you can also translate Brookside to any language you want and connect it to your social media networks. What's best, you need to have no coding knowledge to turn this site canvas into a functional website.
Aena

Aena is a heavily content-focused WordPress theme that works fantastically well for online diaries, personal blogs and even magazines. At the time of writing this, there are five available samples, but you can expect even more to drop with upcoming theme updates. Moreover, Aena supports all the latest trends and regulations of the modern web, making sure the performance is of the highest degree all the time. In other words, your page will be compatible with modern devices and web browsers. Some other goodies include fast loading speed, retina-readiness, video support, search engine optimization and infinite scrolling. Amazing documentation and friendly support team are also part of this gem for your convenience.
Dreamla

Dreamla is a remarkably beautiful WordPress diary theme that will do the trick regardless of how meticulous your taste is. In other words, whether you are looking for something special or you just want to stick to simplicity, Dreamla does the trick in both instances. There are different samples at your disposal, however, you can also enrich the default design with your signature style. Full support for personalization. Dreamla is compatible with Gutenberg block builder, MailChimp, search engines, mobile devices and all popular web browsers. Last but clearly not least, Dreamla comes with full-blown social media integration, too.
Rosemarie

What's special about any of the WordPress diary themes that we have here is the fact that there is no need to have any experience with web development to use them. That's right, even as an utter beginner, you still win the game of building yourself a striking diary page.
And Rosemarie is another marvelous alternative that will get you going in the snap of a finger. With the cleanness and creativity of the tool, you can quickly set things up, personalize the default appearance and go live online. Your website will also operate without a hitch on all popular devices, web browsers and retina screens. Finally, Rosemarie is optimized for SEO and fast loading speed, too.
Brodus

With strong attention to detail, Brodus is one hell of a solution that will help you bring to fruition an impressive diary website. With the six available home pages, you will quickly find the one that suits your style best. Besides, you can also tweak the out of the box look and tailor it to your liking with ease. Some of the goodies of Brodus include smooth scrolling, mega menu, one click demo data installation, sticky header and sidebar, social media integration and custom widgets. Little do you know, it only takes you barely any time and effort, and you can already start sharing your stories with the world.
We really appreciate you for visiting PremiumCoding and reading this article! Now you might also want to check out
our Themes
here.