20 Best WordPress Themes For Writers 2020
Avoid desperately scouring the web for the best WordPress themes for writers and authors.
In the collection below, we bring to the table only the most promising, amazing and impressive tools, which you can utilize out of the box.
Without a shadow of a doubt, you can have a fully functional page all set up and ready to present your content in close to no time. First and foremost, there is no need to have any experience with building websites. In other words, you can be an utter newbie and still succeed at creating your dream blog for your writing project.
Make it your way entirely or follow the default settings, whatever the case, the final product will surely be a real masterpiece. Avoid starting from scratch, heck, hiring a pricey developer, when you can do it for a small investment on your own. No coding – ever!
If you are in a hurry, here are our top 3 pick:
| | | |
| --- | --- | --- |
| THEME | TYPE | RATING |
| Baltazar | A Gentleman's WordPress Blog | 5.00 |
| Camila | WordPress Writers Blog Theme | 4.98 |
| GutenVerse | Magazine and Blog Theme | 4.56 |
Best WordPress Themes For Writers & Authors
Valkyrie

Valkyrie is a superb WordPress theme for writers and publishers, offering everyone six different predefined layouts to start your journey on the web quickly and effortlessly. Without the need to know how to code, you can now establish a dope blog or online journal which will help you spread the word out like a pro from the very beginning. You can use Valkyrie out of the box, but you can also step things up a few notches by performing customization tweaks. Valkyrie is 100% mobile-friendly, cross-browser compatible, in tune with retina screens and optimized for SEO, too. Kick off your project without a sweat by putting the remarkable Valkyrie to play.
Baltazar

Baltazar is an exclusive, modern, professional and user-friendly WordPress theme for writers of any topic and genre. While Baltazar might focus more on the gentleman's world, you can easily and quickly fine-tune the look and use it for something entirely different. With the several ready-made samples, you have enough variations to find one that will capture your interest. From then on, use the web design exactly as is or improve it further. With the simplicity of codeless editing, anyone can alter the look of Baltazar to their likings precisely. Some of the features of Baltazar include Revolution Slider, CSS3 animations, fast loading speed and Google fonts to name a few.
Ragnar

If you would like to start sharing your story with the world, create an A-class website with Ragnar. This outstanding WordPress theme for writers is all you need to get things moving forward in close to no time. Let's face it, you do not even need to have any prior experience with building websites, as Ragnar has it all predefined for you. To top it all up, you will also not need to write a single string of code to make corrections to the default layout. Ragnar has six different layouts available and ready for you to take to your full advantage out of the box. It also supports five different post types, Instagram feed, gallery posts, custom shortcodes and more.
Everly

In this day and age, you do not need to be a web developer nor you need to hire a coder to sort out your website. With simple to use, yet powerful and feature-rich, WordPress themes for writers, you can realize your ideal website in literally minutes. After you choose the ideal web design, all the rest happens comfortably and quickly. Select from the ready-to-use layouts and enjoy quick establishment of a nifty blog. Social media integration, wonderful animations, Revolution Slider and email subscription are just a bunch of amenities of Everly. The layout also instantly reshapes to any device and ensures killer performance on all web browsers.
Camila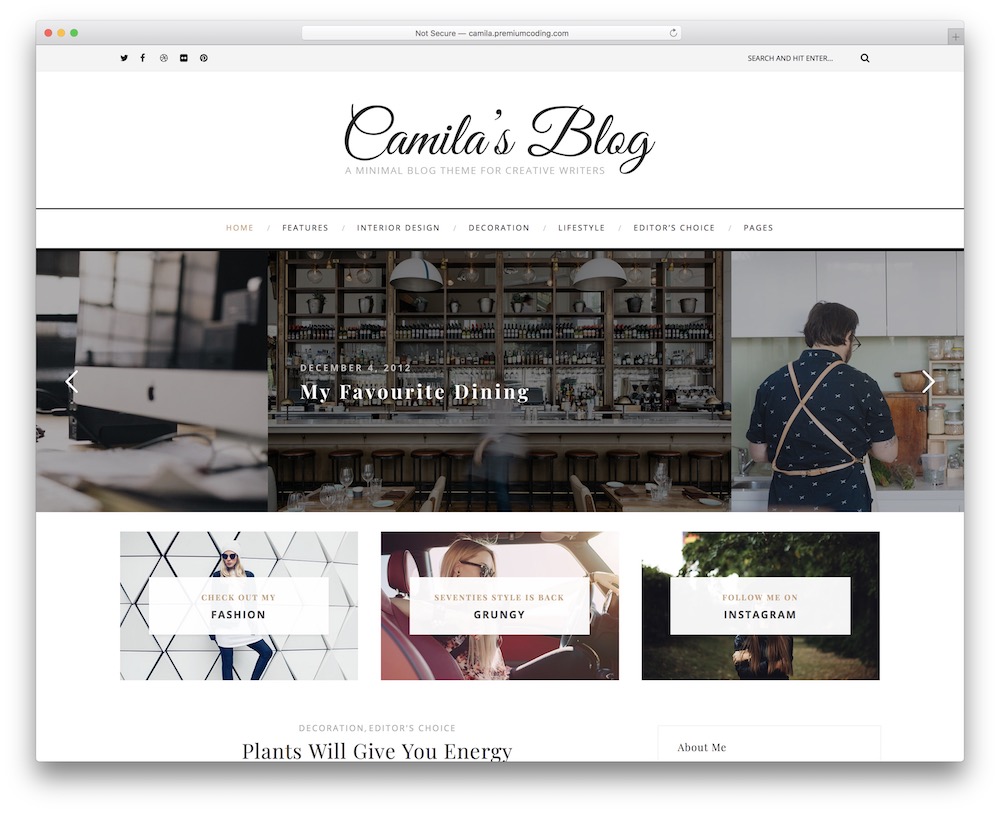 As a writer, if you would like to kick off your own blog, get your hands on Camila and make a difference. This wonderful, clean and minimal-looking site canvas is great for pushing your compelling content right in front of your audience. In the Camila package, you will discover four different layouts, all creative, modern and easy to use. In fact, you need to have no skill with web development and still win the day with Camila. Needless to say, Camila practices all the latest trends and regulations of the modern web, ensuring the stable and secure operation of your nifty new writer's blog. If you would like to spice things up, feel free to edit and alter the default look of Camila and make it your own.
Veen

Creating a catchy website for authors and writers happens in a little breeze with the implementation of Veen. This sophisticated, creative and minimal site canvas is all you need to start your online project swiftly. Even if you lack web development and design skills, you will still win the game with Veen. This tool comes with all the various page layouts and features that you need to mix and match and call it a day. Even when it comes to technical aspects of a successfully operating website, Veen takes care of it all. It is 100% mobile-ready, cross-browser compatible, fast loading and optimized for search engines.
Uppercase

Uppercase is a very distinct WordPress theme that any writer and author can take to their total advantage. With the different designs and a dark mode switcher, you can create a striking outcome that will turn heads. The process of installing and setting things up will be a little breeze, offering everyone to kick-start a new project with comfort. Keep in mind, pretty much anything and everything is editable – of course, without the need to write code. Uppercase is also optimized for fast loading speed, supports AMP and follows the current SEO regulations. If you are ready for a difference, make the right move with Uppercase now.
Karis

Karis is for every author and publisher who is looking for something different in a WordPress theme. It is a guarantee that you will create a strong and memorable first impression with Karis, thanks to its distinct style. Even though this remarkable solution keeps things simple and minimal, it is still an exciting design that will capture everyone's attention without a shadow of a doubt. Out of the box, Karis delivers six marvelous demos that you can put into practice right away. As a matter of fact, you can stick to the design as is, personalize it and you are ready to roll. Keep in mind, if you would like to translate Karis, you can do that, too.
Aena

Aena is a strongly content-focused WordPress theme that works ideally for authors and writers. With several different predefined layouts, you can now start on the world wide web with a fresh page almost immediately. Needless to say, you do not need to be tech-savvy to be able to work with Aena and create a website that is exactly to your liking. Some of the features that you get with Aena are infinite scroll, video support, social media integration, child theme and featured posts. The theme is also optimized for fast loading speed, SEO, mobile devices, popular web browsers and retina screens.
Dreamla

If you are ready to realize your idea once and for all, do yourself a favor and select Dreamla. It is a magnificent, enticing and interest sparking WordPress theme for writers. No need to start from the ground up when you can save yourself a ton of time and energy by utilizing the powerful Dreamla. Tons of custom-made widgets, video thumbnails, MailChimp integration, sticky sidebar, social media integration and one click demo data import are just some of the amenities of the impressive Dreamla. The tool also supports over nine hundred Google fonts, Gutenberg block builder, all devices, retina screens, modern plugins and retina screens.
Johannes

Starting a blog as a writer becomes a piece of cake with Johannes. This sophisticated, professional, user-friendly and resourceful tool is full of excellent material. In short, take the available to your total advantage and shine online in little to no time. You also do not really need to be a coder nor a designer to have a chance and win the game of building an online presence with Johannes. Of course, you can also fine-tune and personalize the default settings of Johannes, so it matches your signature style precisely. Start a community of loyal readers and take your blog to a whole new degree.
Once

Once you start with Once, all the rest immediately becomes history. This clean, modern and minimal design is an ideal solution for everyone who is interested in kicking off a blog. There is an array of predefined samples at your disposal for you to get the ball rolling right away. Tons of different layouts, auto-load, online store, GDPR compliance, video backgrounds, you name it, Once delivers it. Needless to say, the design is compatible with all modern devices, browsers, retina screens and popular plugins. Enjoy full creative control and tailor Once to your liking without breaking a single drop of sweat.
GutenVerse

GutenVerse is a prominent WordPress theme for writers and bloggers, as well as online magazine owners. That said, it is a versatile and highly adaptive solution for starting your project on the web in a snap of a finger. GutenVerse includes a bunch of superb demos which you can employ out of the box or improve further. With the use of Elementor drag and drop page builder, you can edit, fine-tune and correct the default look of GutenVerse according to your signature style. With no coding, you can now establish a first-class, professional and sophisticated online space for your must-read stories.
Brookside

With the right set of tools, anyone can hammer out a website. And by anyone, I mean ANYONE; even those who have never in their lives built a page yet. Brookside is a wonderful WordPress theme for writers, packed with predefined layout, elements and components. From home to internal page layouts, Brookside rocks them all and then some for you to mix and match. In addition to that, you can always put in the next gear and fine-tune the layout to your meticulous taste precisely. Brookside comes with sticky navigation, social media icons, grid layout, Contact Form 7 and it also comes entirely translatable.
Barley

If you would like to differentiate yourself from the crowd of writers with a killer online presence, do yourself a favor and pick Barley. This stunning, modern, creative and effortless to use web design is for everyone who would like to share their stories with the world. Meaning, it is a WordPress theme for writers and bloggers of all niches, topics and genres. Get things rocking with the very many predefined layouts and elements and enter the streets of the world wide web quickly and effortlessly. No need to be a pro at establishing pages, Barley is for all and everyone.
Angie

Another tool which will surely spark your interest is the supreme Angie. This WordPress theme for writers is equipped with all the required and then some for a swift page realization. Multiple page layouts are at your disposal for you to employ and take to your total advantage. Utilize them as they are or take things a step further and improve and modify the design according to your style. Twelve demos, five headers, one click demo data import, comprehensive documentation, ten different slider styles and more, you get it all with Angie. If you are ready to take action, wait no longer, get your hands on Angie and start spreading the word out in style.
Baloo

Finally, you came to the conclusion that you need a blog or an online journal. After all, you would like to share your stories with like-minded people and start a community. To achieve outstanding results, get your name out there with the gorgeous, clean and eye-pleasing Baloo. This fine WordPress theme for writers gets you going right away. In just a few clicks, you can have the desired sample readily available for you to edit it with your signature style. But using Baloo out of the box is possible, too. The layout is entirely flexible and extendable, mobile-ready, in tune with web browsers and optimized for high loading speed and search engines.
Urbania

With two clean and engaging demos, Urbania gets you going speedily. To realize your dream blog and start your writing project like a boss, avoid starting from scratch completely. With a tool like Urbania, you can have a full-blown page all set up, ready to attract new readers, in no time. It is all there, at the tip of your fingers. For your information, Urbania is even compatible with the WooCommerce plugin and comes with a web store section in case you would, someday, want to sell stuff online. Urbania includes a bunch of custom-made widgets, sticky navigation, Instagram feed and featured post slider.
Patch

For something a little different, pick Patch. It is a creative, original and out-of-the-box WordPress theme for writers who would like to start a fresh new project. On the other hand, if you would like to redesign your existing website, by all means, do the thing with Patch and stand out a mile. You can effortlessly fine-tune and personalize the layout and appearance and make Patch practice your Genuineness. You do not need to change the code to make improvements and adjustments to Patch; it all happens with visual editing. Also, Patch is fast loading, optimized for SEO and compatible both with mobile and desktop devices.
Gwen

In the Gwen kit, you will find a whopping collection of eleven different home pages. Along with that, Gwen also comes with several inner page layouts and multiple other elements and components. It is an all-in-one tool that will help you get your project idea on feet. In fact, if you use the web design out of the box, it will take you just a few minutes to set up the blog of choice. It is an awe-inspiring WordPress theme for writers, ready to push your compelling articles and texts to the outer world. Other goodies contain sticky sidebar and header, custom colors, slider, newsletter subscription form, Instagram feed and social media buttons.
We really appreciate you for visiting PremiumCoding and reading this article! Now you might also want to check out
our Themes
here.