10 Most Popular Fonts In Web Design
Trends in design are changing constantly and it is important to keep on top of them if you are in the web design business. Typography is a very big part of web design and if you don't choose them wisely, it can affect the whole design.
Because of the progress, we can use much more fonts than in the past, but that does not mean if you can use a certain font, that you should. You have to be very selective, test many times and pay special attention to readability. For instance, in our Everly theme, I combined a playful font for the headlines with a more common font for the body to keep great overall readability. This way you give your website a certain atmosphere and at the same time, you don't affect the clean and minimal look.
To help you with the process, we found 10 Most Popular Fonts In Web Design. They are all free fonts and we added our WordPress themes as examples to show you how they look on a live website.
Oswald was designed by Vernon Adams in 2012 and it is an amazing font for headlines and captions. It is a sans serif display font. We used it in Ragnar and Brixton WordPress Themes.
Raleway is an elegant sans-serif typeface family. Initially designed by Matt McInerney as a single thin weight, it was expanded into a 9 weight family by Pablo Impallari and Rodrigo Fuenzalida in 2012 and iKerned by Igino Marini. We used it in several of our themes, including Brixton (body font), Cherry and several others.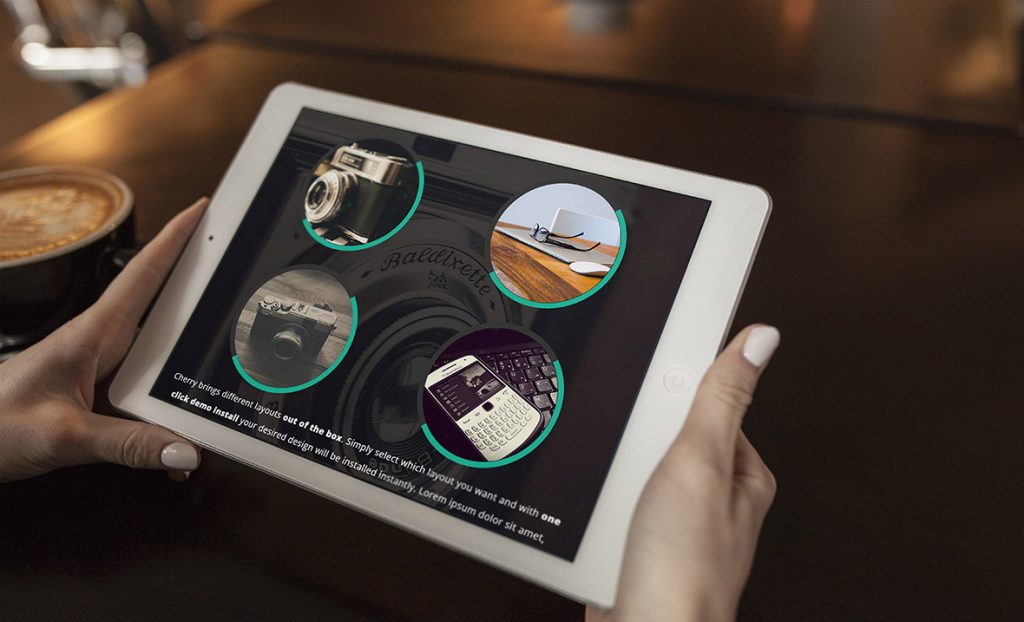 Open Sans was designed by Steve Matteson, type director at Ascender Corp. This sans serif font is great even at small sizes and has been optimized for both web and mobile interfaces. This free web font has an upright feel, with open letterforms and a neutral-yet-friendly appearance that ensures versatility. It's probably my favorite body font and I used it in almost half of our themes.
Lato is a sanserif typeface family designed in Summer 2010 by Warsaw-based designer Łukasz Dziedzic.The semi-rounded details of the letters give Lato a feeling of warmth, while the strong structure provides stability and seriousness. Presenter is our most notable theme that uses Lato.
PT Sans was designed by Alexandra Korolkova, Olga Umpeleva and Vladimir Yefimov and released by ParaType in 2009. It was developed for the project "Public Types of Russian Federation." Based on Russian sans serif types of the second part of the 20th century, free web font PT Sans also incorporates distinctive features of contemporary humanistic designs. One of our earliest themes Micka is using Lato.
Lora was designed by Olga Karpushina in 2011. Lora is a well-balanced contemporary serif with roots in calligraphy. It is a text typeface with moderate contrast well suited for body text. It's used on one of the Everly demos to show that serif fonts also work great for body text.
Montserrat is inspired by the urban typography of the region in Buenos Aires. It was designed by Julieta Ulanovsky. A bold font that I really like for titles. It emphasizes the importance of titles and you can take a look at Atticus as an example.
Playfair Display was designed by Claus Eggers Sørensen in 2013. It has an extra large x-height and short descenders. It can be set with no leading if space is tight, for instance in news headlines, or for stylistic effect in titles. Capitals are extra short, and only very slightly heavier than the lowercase characters. Camila is a proud user of Playfair Display.
BenchNine was designed by Vernon Adams. It is loosely based on the look of the ink spreads and bleeds characteristic of traditional or vernacular woodcut type. The design takes a mash-up of a number of old Stephenson Blake designs and rounds the corners a little. I only discovered Benchnine a few weeks ago when I was designing our latest theme, Landscape. I really like it's curves.
Merriweather was designed by Eben Sorkin. It is a workhorse text type family made specifically for screens. Print use was not a significant consideration in the design. The styles included are light, regular, regular italic, bold, and heavy. I used in our fantasy theme Freyja that needed a vintage touch.
Web designing is not an easy task and details are really important, so we hope we helped you with 10 Most Popular Fonts In Web Design, to make your job a little easier. Our themes examples show you which combos work really well together so your visitors will have a good time reading your great content.
We really appreciate you for visiting PremiumCoding and reading this article! Now you might also want to check out
our Themes
here.