20+ Best Easter Graphics, Mockups & Illustrations
Easter will be in April this year around, so you still have some time to prepare for it. We thought it might be helpful to list some of the most popular Easter Graphics so that you can get going on your Easter Crafts and Designs. Who doesn't love to receive a cute "Happy Easter Card" with bunnies, eggs and all that goes along with that? And with the help of the mockups below you will have print and web designs ready in no time. Customers will surely appreciate the extra attention and a special easter offer that goes along with it.
Here you'll find graphics for everything from cute bunnies, eggs, photos to bundles and patterns. Each listing below has a link on the image to the described product. Just click on it to get to the graphic or mockup.
Happy Easter Kit has bunnies, flowers, feathers which are hand painted in boho style. You will receive 1 rabbit in a balloon, 1 rabbit with a basket, 1 balloon element, 3 ribbon elements, 5+ watercolor backgrounds, 2 ready for use cards and 29 floral & feather elements. You can use them for many different DIY, cards, blogs and much more. 
Easter Patterns in Black & White are fun and cute, perfect for your project.  You will get a vector EPS format file with 12 seamless patterns, a vector AI format file with 12 seamless patterns and 12 JPEG files one for each pattern, size: 2500 × 2500 px at 300dpi. You can decorate posters, printable materials, background or other crafts. 
Easter egg hunt flyer template can be used for party promotions or home invitations. It has a lovely and simple design, with layers for easy customization. It also has organized layers, it is compatible with Adobe Photoshop CS3,CS4, CS5, & CS6,CC. The template size is 4x6in and it includes bleed 0.25in, images, text and background are on separate layers. It also includes the font download link in the help file.
Happy Easter vectors are colorful and playful, perfect for cards and greetings. You receive 1 .EPS file created for use with Adobe Illustrator.
This set has cute cartoon style Easter bunnies, decorative elements in many different styles, 8 seamless patterns and 15 greeting cards. 
Easter Tartan and Gingham Plaid are vector patterns suitable for decorative paper, DIY, and more. You will get 1 EPS (10) files (included pattern swatches), 1 AI CS file (included pattern swatches) and 14 files JPG (3600×3600px / 12"x12" at 300dpi).
Happy Easter set is playful and adorable, it contains the true Easter spirit with all the colour and details. You will get 46 characters animals and elements Easter — 1 vector files (EPS version 10, AI version CS5) + 1 raster images (JPG)(300 dpi) + 46 files (PNG)(300 dpi), 4 seamless pattern Easter — 4 vector files (EPS version 10, AI version CS5) + 4 raster images (JPG)(4167×4167 px)(300 dpi), 5 greeting cards Easter — 5 vector files (EPS version 10, AI version CS5) + 5 raster images (JPG)(3217×4833 px)(300 dpi), 16 pattern brush for Adobe Illustration — 1 vector files (EPS version 10, AI version CS5) + 1 raster images (JPG)(300 dpi) and 6 pattern brush garland Easter for Adobe Illustration — 1 vector files (EPS version 10, AI version CS5) + 1 raster images (JPG)(300 dpi) + 6 files (PNG)(300 dpi).
This delicate and cute watercolor rabbits set includes 25 png objects such as rabbits, eggs flowers, nests, … It includes 2 seamless patterns JPG 15 isolated PNG objects in transparent background for your project and bonus if 3 cards for Easter JPG (A2 formate).
Happy Easter Bundle is a hand drawn set, full of beautifully made and detailed elements, full of joy and color. The set offers 52 hand drawn floral elements, 16 colorful eggs, 6 premade greeting cards, 6 gift tags and 6 seamless patterns.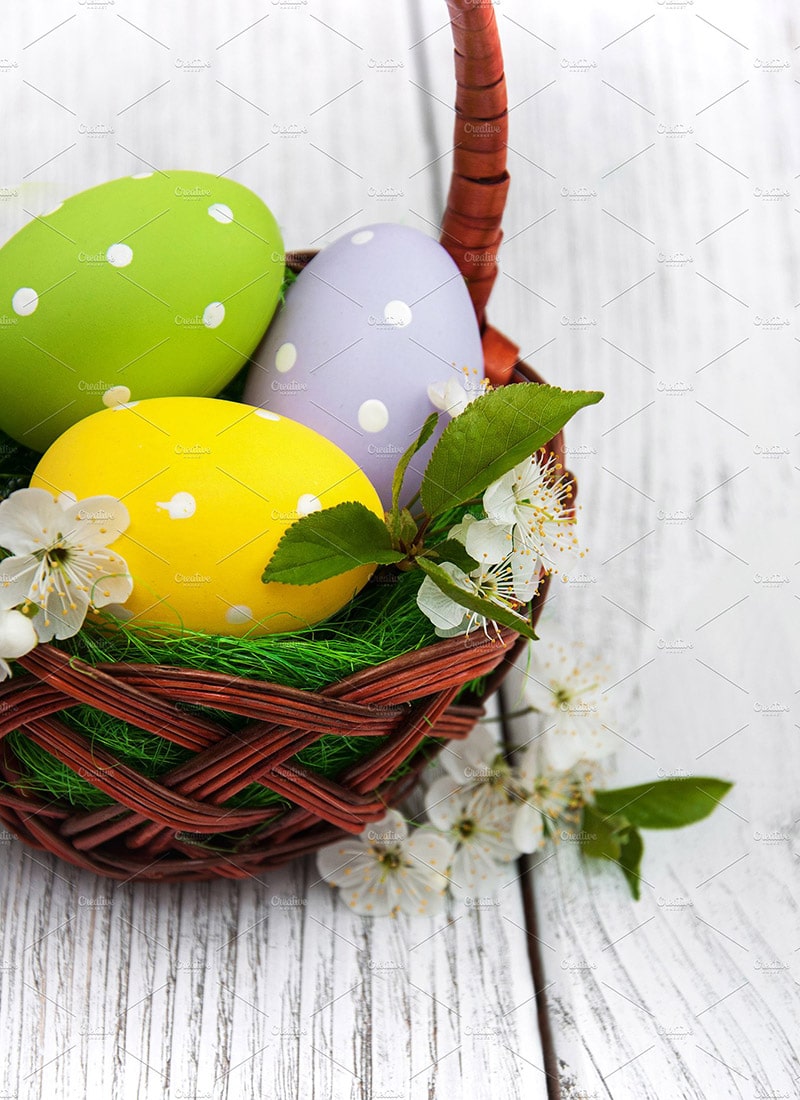 A beautiful photo of Easter eggs in a basket with apple blossom on a whitewashed wooden background.
A  collection of 25 symbols like eggs, Jesus, butterflies, cake, bunnies, etc. for Easter in ai, eps, png and psd. Perfect for event logos, web and print. 
8 beautiful hand painted colorful easter eggs with a different heart. polka dot, stripes patterns. The are perfect for Easter designs such as cards, posters and more.
These digital papers look like the are painted on wood and it makes them even more delightful. They are full of vibrant color and Easter decor. This set includes 12 digital papers, 300dpi, printable, no watermarks, instant download for personal and small business commercial use.
This set includes 17 hand painted watercolor elements for you Easter designs. They are original and cute. You will receive 17 PNG files: x2 lovely bunnies (one is sleeping), carrot, cupcake with carrot, Easter eggs, Easter eggs with bunny ears, little flags, wire (to put the flags), banner and birds nest with Easter eggs. They are 300 DPI files with transparent background.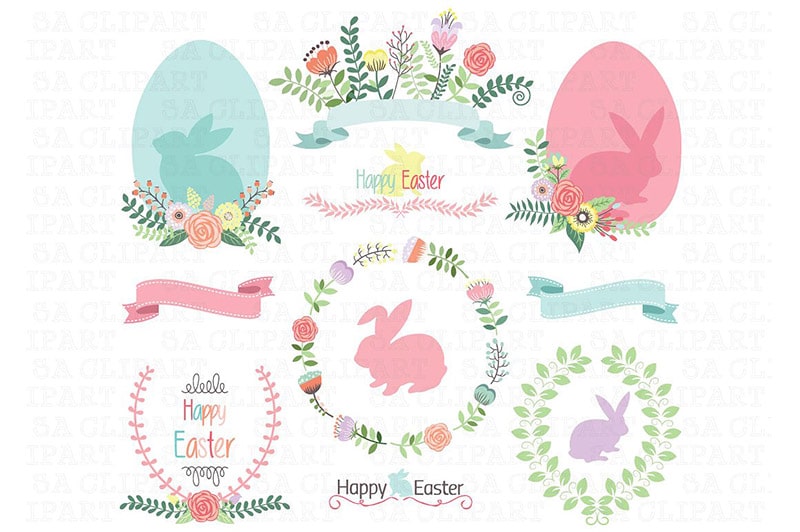 Easter clip art contains 34 images easily editable in Illustrator for your personal customization. They can be put on cards, fliers, web pages and more. You will receive 34 Easter images that are about 6″ wide at full size with 300 dpi High-Resolution PNG File.
This colorful photo beautifully captures the essence of Easter. It has hand painted eggs on a nest and on the left you can just add some greetings and you have a card ready in no time.
This collection has everything you need for you Easter designs and it is so modern and chick! You get a vector file (EPS10 version) with all elements, separated PNG for each element on transparent background (90 PNG) a JPG file with all elements put together and a bonus – 1 seamless pattern with flowers (EPS, JPG) and Spring card (EPS, JPG, PNG).
This set offers you 22 png file with images of eggs, chicks, bunnies, etc, 8 png patterns and 10 free fonts. Perfect for posters, banners, postcards, invitations.
This cute flier will help you invite people to your event in a stylish way! 
These wreaths are so beautiful, you can hardly believe they are hand painted. So many details and beautiful colors make the really special. In this set, you will receive 19 high-quality elements.
This set has 8 vectors Easter cards with added seamless patterns. They are colorful, cute and whimsical.
This huge collection in pastel colors includes posters, cards, tags, patterns and other elements. You can use it for posters, cards, event invitations and more.
We hoped you enjoyed browsing through our collection of 20+ Best Easter Graphics on Creative Market and will find the listed graphics useful.
We really appreciate you for visiting PremiumCoding and reading this article! Now you might also want to check out
our Themes
here.