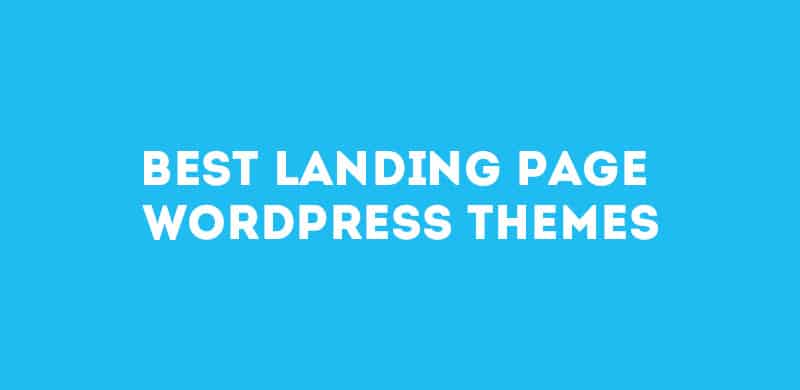 Best Landing Page WordPress Themes
You took months  to plan , strategize , build support and advertise your business and to increase your sales moreover , you have spent a large sum upon it's promotion. Still your company's website may not achieve that much convergence rate as your opponent's .
The reason could be that you are not using well enhanced , attractive landing pages to acquire higher sales and conversions. Without additional plugins, most themes don't offer suitable functionality out of the box.
Here's the complete solution for all your emerging questions, that leads you to more impressive landing pages rather than just a signup form on a homepage!
We have got for you some of our Best Landing Page WordPress Themes to capture the visitors' attention and to convince them to take action and  moreover, help you to design an effective Landing Page to increase your site's conversion.
Let's take a look at what i'm talking about :
BlackRiders is a multi-concept WordPress theme that you can use for building impactful landing pages for  websites like educational institutions , career hubs , cab booking ,etc.
The Lead capture form on the landing page itself helps in overall escalation of conversion scale .
BlackRider's Contact Info' on the right place of the landing page distinguishes itself from other themes.You can't miss it's attractive color options with social icons and full width slider. If you are expecting huge amounts of incoming visitors popping into the internet and need a professional -looking ,visually impressive , well designed, cogent and coherent solution.
BlackRiders is exactly what you are looking for !!
Hipstech is the best example of creativity to expose products and services to a large audience. It is a multilayer-structured WordPress theme with easy to navigate design and layout & incredible flexibility and functionality.
It is useful for your digital agency to run a digital project and provide multiple solutions to customers. It is also used in for multiple purposes starting from personal blogs and business sites to complex websites. This modern style one page WordPress theme with parallax background can be used to create corporate, business, personal blogs, agency or portfolio sites.
Variant is a perfect lead generating landing page for business websites like wedding planners , cab systems , hotel booking , tour organizers , etc .
Variant provides more room for creativity and  it's A/B testing feature eventually results in creating 5 multiple layouts on 1 dashboard  .
It is a conversion focused theme especially designed to convert visitors into customers by using its Lead Capture Form on it's landing page itself .
You can't afford to miss this theme which includes all the tools to make your work easier and less time consuming.
Want your stats to grow rapidly ?Try Variant today !!
CherryPlay landing page has a versatile design. Mega sliders, splendid background images, custom fonts, typography options, give users complete freedom to desire. The theme is perfect to highlight your objectives with custom logo, custom favicon, custom posts/pages and custom colors.
Theme comes with one click demo installation, versatile and user-friendly page builder, combinations of short code and blocks offers you complete freedom when it comes to the layout and color of your page. Responsive and retina ready theme will look amazing on any devices.
Local Business WordPress Theme is yet another weapon in the armory of our collection of themes . Designed mainly for local businesses like contractor , florist, coffee shop , etc .
Lead generation form helps in building numerous leads.One of the productive feature is the contact details and social icons in the header. It's constructive characteristic is that you can list all your services on the landing page itself which will result in increased conversion scale plus uploading videos and images on the sidebars will help you grab more customers .
Just use this landing page theme and feel the comfort of running your small business smoothly.

Raindrop has extensive features to be explored. Probably you can't figure out all in once. But you get a theme to drive your business to height.
Inbuilt features & 100+ shortcodes help customize your website in the desired manner. It has productive features which will guide you for effective product and business presentations. You have got unlimited color options, versatile page builder, responsive and retina ready that looks fabulous on all devices.
 
Blackwell's  full- responsive , all-in-one landing page template will pop up your sales and proliferate your leads. It's retina ready trait , parallax effect attribute , beautiful portfolio building capability , scrolling effect  and abundant color themes will ultimately make your conversion scale reach heights.
So, what to wait for ??  You have reached your destination of building attractive lead generating  landing pages with Blackwell.Without waiting for the apparent time expand your business of interior designing , interior advice , makeover ideas ,  etc .
Use BlackWell and just expand your business like a pro !!
Stormy Days is the best multi purpose and flexible theme that offer you an almost unlimited variety of unique page layouts. Theme helps you to take your business and services to a new heights.
Its powerful features which will help you create an amazing website. One click installation theme has premium page builder, parallax background, 100+ shortcodes, different blog variations, video breadcrumb and mega menus. Clean and crisp fashionable design attracts users and gives you more traffic to your website. Stormy days has revolution slider included which will add an effect to your site. Do not let slip this fabulous theme for you business website.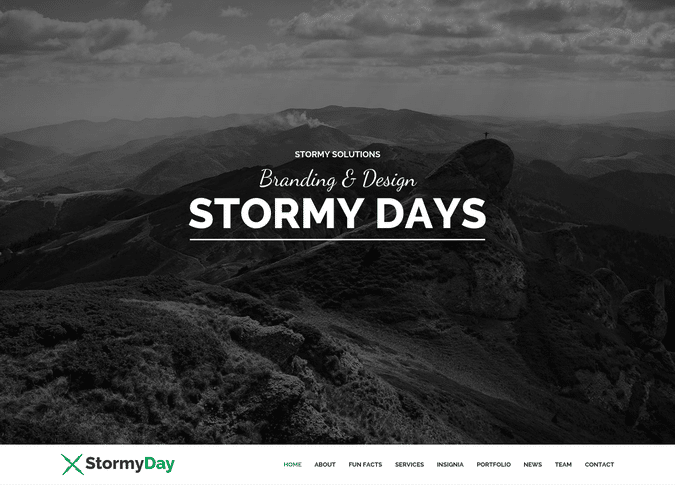 Infoway is a powerful and deeply flexible, incredibly customizable, fast loading , mobile friendly, easy to use , intuitively structured and polished Lead Capture theme to build completely mind throbbing Landing pages to increase your leads in abundance  and result in tremendous conversion scale.
It is Retina-ready and SEO friendly , highly responsive ,WordPress multiconcept, multipurpose theme ,  powered with bootstrap 3 and has many inbuilt functionalities, equipped with admin panel. It will absolutely suit people who want to build sites for restaurant , sports , cookery and articles for blogging savvies.
Don't be amazed , make your  phenomenon move to grab this amazing theme.
Fantasy WordPress Theme will transport you to another world. Let your imagination and creativity run wild with this stunning theme and explore almost unlimited variety of unique page layouts.
Fantasy comes with ravishing features which will help you as well as users. Reviewing some of those are parallax background, image menu, 20+ different portfolio pages, AJAX based powerful admin panel, revolution slider and smooth scrolling. Together it can be said  that it best one and multi page theme that will suit your any business related niches.
We really appreciate you for visiting PremiumCoding and reading this article! Now you might also want to check out
our Themes
here.