WordPress 4.5: Coolest New Features You Should Know
WordPress is one of the most used Content Management Systems at the present day. It is an open source CMS and thus available for free to use as a website development platform or a blogging platform. Previously it was considered just as a blogging tool, but now it has grown as the most popular CMS. It provides you so many features that you can not resist yourself to use it. It is extremely easy to use and manage.
WordPress has become the first choice for the developers and the business owners who want to develop a feature full website. It is very user-friendly and does not require any hard coding skills to manage it. It is loaded with powerful themes which make it easy to develop a website with responsive design. A WordPress website has a clean and simple code so the search engines like it. WordPress is very SEO friendly and makes it a fun task to optimize your website for the search engines. Moreover, it gives you the of various plugins. You can optimize your website with desired functionality using different plugins.
These many features contribute to makes WordPress an obvious choice for the users. It does not stop here in its offerings. WordPress keeps releasing small updates to avoid any security breaches. It has a strong community support which can help you throughout your development process. And last but not the least it is comparatively very cost effective.
WordPress is a continuously improving CMS. Even it is so full of features, it does not stop releasing a Newer Version with more features and with some overcomes of the older version. It keeps on improving with every new released version and making it easier for the users every time. With this priority, WordPress has released a new version WordPress 4.5 with code name "Coleman" after the famous jazz musician. It will be fair to mention here that all the major versions released after version 1 are code named after famous Jazz musicians.
WordPress 4.5: Coolest New Features You Should Know
WordPress 4.5 is the first release of 2016 and loaded with some exciting features. Let us have a look on the new features of WordPress 4.5:
Support For Theme Logo:
This is one of the features that you may be waiting for a long ago. Earlier you were dependent on themes for the logo support. Moreover, the problem increases with the fact that every theme does not support the customize use of logos. There was not any standard way of adding a logo from the customizer.
WordPress has come up with this new feature in the version 4.5. Now you will be able to insert the logo of your business directly into the theme from the customizer. It will save your time and will add to your productivity.
Going around the Theme Logo Support:
Just go to the Appearance Menu
Go to "customize"
Click on "Site Identity"
Now you will get the option of Adding a logo image
Once you have uploaded the logo, you can check in the preview that how it will look in the real-time.

Site Icon Preview:
Site icon feature allows you to set a favicon and application icon for your website. This feature was introduced in WordPress 4.4. Previously you can see the site icon preview while setting the image only. This is now improved in WordPress 4.5. Now you can see the site icon preview from the customizer area. You can see the preview when you have set the site icon under the site identity panel. It is a nice addition to the WordPress 4.5.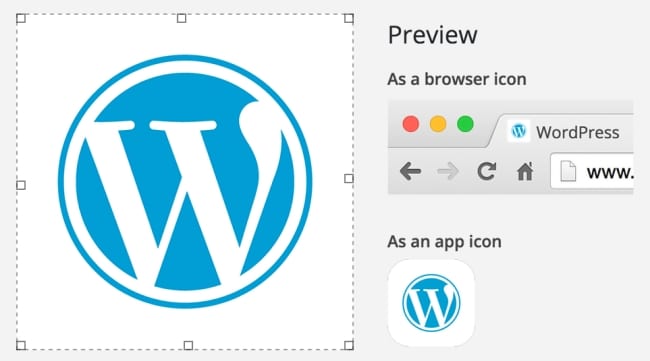 Responsive Preview Support:
It is a useful feature to have a preview option the WordPress customizer. With this before going live you can check that how your website will look. It is a nice feature, but what if you have to check it for different device screens? You are developing a website with responsive design so before going live you want to check that how it will look on different devices. WordPress 4.5 have come up with a solution to this. Now you can see the preview of your website for different screen sizes just by switching to a mobile or desktop device option.
It is going to prove a vital factor in coming time, as most of the websites developed today are of responsive design. So before making the site live you can see how it will look on a desktop, tablet or a mobile. It will give you an idea of the required changes and will save a lot of time for you. Responsive preview helps you to make the user experience of your site better.
How to use Responsive Preview :
Go to the Customizer
Go to Site identity
Get to the responsive preview options at the bottom
Here you can click on the desktop, tablet or mobile icon to check how your site will look on different screens.

Optimize Image Generation:
Images are an important part of any website. You can use the images you give a better understanding to the users. Images make your website look beautiful and makes the user experience better.
Images are also an important factor for the Website speed and functionality. Although responsive image feature was there in the previous version of WordPress which enables the users to small size images on small screens, there was a concern of the quality and performance.
WordPress 4.5 has a overcome this with Optimize image size generation. WordPrees 4.54 allows you to generate more effective images. With this feature, you can reduce the image size up to 50 percent with almost no loss in quality. This will allow you to showcase better images to the users on smaller screens as well.
Log in with Email:
You were not allowed to log in with the email address in the older versions of WordPrees. You have to remember your User Name.To create an easy to remember password makes you concerned about the security and to create a complex password is difficult to remember.Moreover, you have so many accounts over the web that you may get confused about the username.
WordPress 4.5 is enabled with the option of login with username or email. Now will be able to log in your WordPress account with the linked email address.
Comment moderation Screen:
WordPress 4.5 has come up with an improved comment moderation screen. In the previous version when you click on the comment moderation link in the email notification you reach the comment moderation page. Here you were not able to edit the comment and you found a plain block of text with HTML codes.
In WordPress 4.5 you'll get a more useful comment moderation screen. You will be able to see the comment in a formatted way just like the way it appears on the website. Moreover the comment email message link will be appended with #wpbody-content for easy accessibility.
Inline Link Editor:
It is another standout feature in WordPress 4.5. It makes it less distracting to edit a link in your post and allows you to concentrate on your writing. In WordPress 4.5 you will get an inline link window instead of the pop-up window to minimize the distraction. It is supremely easy to insert a link now, just highlight the text press Ctrl+K you'll get the inline link editor ,put the link in that and you are done, you may continue writing your post.

Text Shortcuts:
Inline text shortcuts enable you to add a quick formatting to your write-up. These shortcuts were first introduced in WordPress 4.3. WordPress 4.5 include some more such shortcuts to make the formatting easier for you. You can use dashes (–-) to include a horizontal line and use single inverted commas ('___') for the code.

Selective Refresh:
In the older versions when you apply a change in the customizer, the entire page has to reload. You can avoid it with the newly updated version of WordPrees.
Wordpress 4.5 has come with a more comprehensive framework, it empowers the customizer to allow a selective refresh. It is fast and you can avoid the reload of the entire preview screen.
Script loader:
It is easier to add inline scripts in the WordPress 4.5. WordPress 4.5 introduces wp_add_inline_script() for including inline JavaScript.
Embed Templates:
WordPrees 4.5 has come up with the customizable embed templates. Now they can be directly overridden by the themes via template hierarchy.
New WP_Site Class:
The new version of WordPress has come up with new WP_Site class. It will be helpful for multisite installs.
Backbone and Underscore:
WordPress 4.5 will have updated versions of Backbone and Underscore. Backbone is upgraded from 1.1.2 to 1.2.3 and Underscore is upgraded from 1.6.0 to 1.8.3.
If you use the plugins and themes that rely on Backbone and Underscore libraries then carefully check the functionality and the compatibility.
WordPress is already a featureful platform and it keeps on releasing the new version with some improvements. With the release of WordPrees 4.5, it has continued the trend of improvement and evolution. WordPrees 4.5 include many new features some of which may be the most awaited by you. So you can head towards updating to the latest version of WordPress and enjoy some amazing features on the go.
Author Bio:
Marie Thomas is a WordPress Developer, associated with Wordsuccor Ltd., a wel known WordPress Development Company having a dedicated team of WordPress Expert. She has delivered numerous range of quality products worldwide. She has a strong passion for writing useful and insights about WordPress tips and tricks.
We really appreciate you for visiting PremiumCoding and reading this article! Now you might also want to check out
our Themes
here.