Amelia Review: Unveiling Amelia's Powerful Booking Features
In the fast-paced world of online businesses and service management, Amelia steps up as a user-friendly WordPress plugin designed to make appointment and event scheduling a breeze. This versatile tool packs a punch, making your booking process smoother and your customers happier.
Amelia isn't just another piece of software; it's your key to running a more efficient operation. It simplifies appointment management and event scheduling while keeping you in your WordPress comfort zone.
Let's dive into the extensive array of features this solution brings to the table and discover what sets it apart.
What Is Amelia?
Amelia is a comprehensive WordPress booking and appointment scheduling plugin. It's designed to help businesses of all types, from salons and medical offices to fitness centers and educational institutions, effectively manage appointments and events on their WordPress websites.
But what makes Amelia so special? It's not just another run-of-the-mill plugin. Amelia boasts a set of standout features that set it apart from the competition, making it a top choice for businesses seeking seamless appointment and event management.
Let's explore some of the key features this booking plugin brings to the table.
Key Features that Make Amelia Stand Out
For enhanced clarity and organization, we've grouped Amelia's most noteworthy features into two distinct categories: features applicable to all types of appointments and features that are used exclusively for event management.
Appointments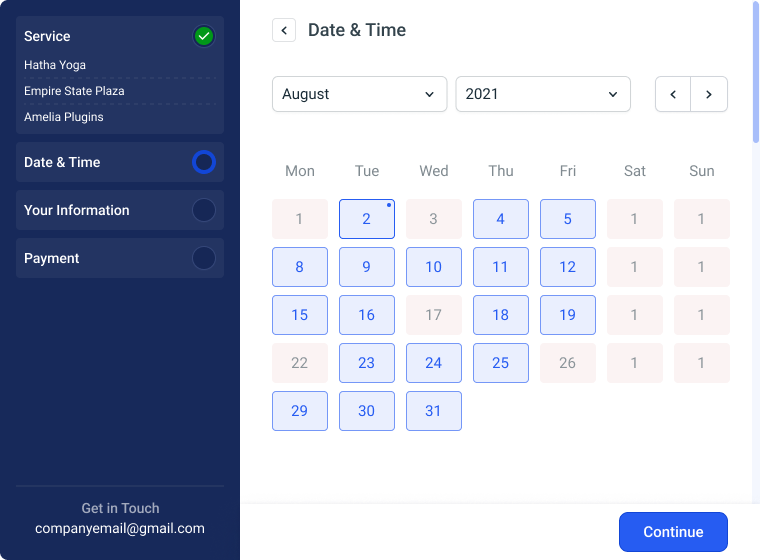 In the realm of appointment management, Amelia truly shines by offering a comprehensive set of features designed to simplify scheduling and enhance user experience. From automated notifications that reduce no-shows to the ability to create recurring appointments for businesses with regular schedules, Amelia caters to the diverse needs of service providers.
Automated notifications and reminders
To begin with, Amelia's automated notification and reminder system is a game-changer for businesses. These timely notifications keep customers informed about their upcoming appointments, reducing the likelihood of no-shows. This feature helps businesses maintain a full schedule and ensures that clients don't forget their commitments. It's a win-win for both sides, enhancing overall efficiency and customer satisfaction.
Recurring appointments
For businesses with regular schedules, recurring appointments simplify the booking process. Whether it's weekly check-ups at a medical office or daily yoga classes at a fitness center, this feature saves time and effort. Users can easily set up recurring appointments, which makes it a perfect choice for service providers with repeat clientele.
Custom fields for booking forms
Customization is key in catering to diverse customer needs. Amelia's custom fields for booking forms allow businesses to gather specific information from clients. Whether it's dietary preferences for a restaurant reservation or specific treatment preferences for a spa appointment, custom fields make the booking process tailored to each customer.
Employee schedule management
In businesses with multiple staff members, keeping track of employee schedules can be a challenge. Amelia simplifies this by providing an efficient way to manage staff schedules. This ensures that appointments are only booked during available times, avoiding double bookings and schedule conflicts. It's an organizational lifesaver for businesses with a team of professionals.
Insightful dashboard and reporting
Businesses thrive on data. Amelia's insightful dashboard and reporting features provide valuable insights into business performance. Users can track appointments, revenue, and other vital statistics. This data empowers businesses to make informed decisions, optimize their operations, and offer improved services to customers.
Multiple locations
For businesses with multiple locations, managing appointments across different sites can be complex. Amelia streamlines this process, allowing you to manage multiple locations seamlessly. This feature ensures that customers can easily find and book appointments at the most convenient branch, enhancing accessibility and convenience.
Group appointment bookings
Whether it's fitness classes, workshops, or group therapy sessions, group appointment bookings are an excellent feature. It simplifies the process of booking for multiple participants, making it perfect for businesses offering group services. This functionality promotes group participation, streamlining the booking experience for all involved.
Buffer time
Preventing appointment overlaps is essential for a smooth customer experience. Amelia's buffer time feature allows businesses to insert gaps between appointments, ensuring clients don't feel rushed. Also, service providers have enough time to prepare for the next client. This small but significant detail enhances the overall quality of service.
User roles and permissions
Not everyone in a business should have the same level of access. Amelia's user roles and permissions feature provides control over who can view and modify booking information. This ensures data security and privacy while allowing businesses to delegate responsibilities effectively.
Online payments, deposits, and refunds
The ability to accept online payments securely simplifies the booking process. Amelia supports online payments and enables businesses to issue refunds when necessary. This feature reduces the hassle of payment collection and refund processing, improving the financial aspect of appointments.
Packages of services
Many businesses offer services bundled into packages. Amelia makes this easy by allowing businesses to create and manage packages of services. Customers can choose from pre-arranged packages, which results in a convenient booking process and an increase in sales for the business.
Resources
For businesses that require specific resources for appointments (e.g., specific rooms or equipment), Amelia provides resource management features. This ensures that the right resources are available for each appointment, enhancing the customer experience.
Customization
Every business is unique, and Amelia understands that. The customization features allow businesses to tailor booking forms and the overall appearance of the plugin to match their brand identity, which helps them build their brand.
Events
Event-specific features empower event organizers to take full control of their event planning and management. Amelia simplifies the process of creating, managing, and pricing events, as well as selling tickets. This makes it a go-to solution for businesses and individuals looking to host successful and profitable gatherings.
Event management
Amelia makes event management a breeze. With its user-friendly interface and intuitive features, you can efficiently plan, organize, and oversee events of all types. Whether it's workshops, seminars, or social gatherings, you have the tools you need at your fingertips.
Recurring events
For those events that happen regularly, Amelia simplifies the process. Setting up recurring events takes a few clicks, saving you valuable time and effort. Weekly webinars, monthly workshops, or daily fitness classes, scheduling becomes a hassle-free task.
Tickets for events
Monetizing your events has never been easier. Amelia allows you to sell event tickets directly through your website. No need for third-party platforms or complicated integrations. It's a seamless solution that streamlines the ticket-selling process, whether you're organizing a small conference or a large music festival.
Custom pricing for events
No two events are the same, and Amelia acknowledges this. With the custom pricing feature, you have full control over how you price different events. Also, you can set your pricing strategy to suit the uniqueness of each event, catering to varying audiences and budgets. This flexibility ensures that you can maximize revenue while offering tailored pricing options.
Integrations
Amelia integrates with various business tools you use on a daily basis:
Google and Outlook Calendar Synchronization: Seamlessly sync your Google or Outlook calendar with Amelia.
Google Meet and Zoom: Integrate with popular video conferencing tools to host virtual appointments and events.
Elementor and Divi Integration: Amelia plays well with popular page builders, Elementor and Divi, ensuring a seamless design.
Google Analytics: Track and analyze your website's performance and user behavior.
Payment Gateways: Accept payments through various gateways, including Mollie, WooCommerce, PayPal, Stripe, and Razorpay.
Webhooks: Use webhooks to connect Amelia with other applications and services.
WhatsApp Integration: Stay in touch with clients using WhatsApp.
Are There Any Other Perks of Using Amelia?
On top of its core features, Amelia brings several additional advantages to the table:
Seamless WordPress integration
Amelia seamlessly integrates with your WordPress website, ensuring a hassle-free user experience. The setup is straightforward, making it easy to install and configure the plugin, whether you're managing appointments or organizing events. This harmonious integration with WordPress allows you to focus on what matters most – running your business.
Responsive customer support
Amelia prides itself on offering dependable customer support. If you ever find yourself facing issues or needing guidance with the plugin, you can rely on their responsive support team to provide timely assistance. This commitment to customer support ensures that you're never left in the dark and that any challenges you encounter are promptly addressed.
Continuous evolution and upgrades
Since Amelia is dedicated to remaining at the forefront of technology, regular updates and improvements are part of the deal. They help enhance the functionality and security of the plugin. This means that your experience with Amelia only gets better over time. What's more, you can trust that you're using a solution that keeps up with the latest advancements in the digital landscape.
REST APIs Management
Additionally, Amelia offers seamless management of REST APIs, further enhancing its compatibility and extensibility. This feature opens doors for connecting with other applications and services, expanding your business's capabilities, and ensuring that your scheduling and event management processes remain flexible and dynamic.
What About the Price
Now, let's talk about affordability. Amelia's pricing structure is designed to cater to businesses of all sizes and budgets. Whether you're a small startup or a well-established enterprise, Amelia offers a pricing plan that suits your specific needs.
Amelia Lite: If you're just starting and want to get a taste of what Amelia can do, there's a free version available. This version provides access to essential features, making it an excellent entry point for businesses on a tight budget. It allows you to dip your toes into appointment and event management without any initial financial commitment.
Paid Plans: While the free version provides a valuable introduction, the true power of Amelia comes to life with its paid plans. These plans unlock a wealth of advanced features and functionalities. From the ability to support multiple domains to handling resources and accessing the REST API, the premium plans are well worth the investment.
Paid plans start from $76 for the Annual Basic plan and go up to $1,498 for the Lifetime Developer plan.
So, What's the Verdict? Is Amelia Booking Plugin Worth Your While?
Absolutely!
Amelia is a game-changing plugin for businesses looking to streamline their appointment and event scheduling processes.
With a host of features, seamless integration with WordPress, and reliable customer support, it's an excellent choice for businesses of all sizes.
Whether you run a salon, medical office, fitness center, or any other service-based business, Amelia simplifies scheduling and enhances the customer experience. Its constant evolution and user-friendly interface make it a valuable addition to any WordPress website.
If you're serious about efficient appointment and event management, Amelia should be on your list of must-have plugins.
We really appreciate you for visiting PremiumCoding and reading this article! Now you might also want to check out
our Themes
here.