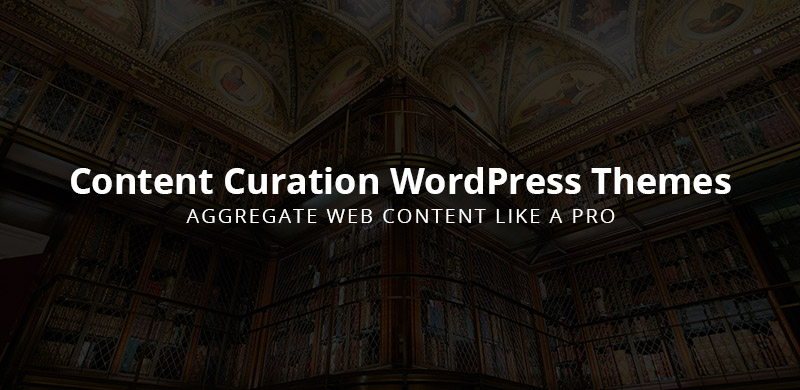 12 Best Content Curation WordPress Themes 2020
If you truly want your website to have the best potential to go viral, you should consider content curation WordPress themes. These allow you to quickly put together a page for gathering and collection the best content there is currently available on the web. One page to sport it all.
More and more users are relying on one source which covers all of their interests. Instead of wasting time, jumping from site to site, one platform has it all available and carefully curated for them. With so much quality content, yet at the same time a ton of poor grade stuff, available on the web it can get time-consuming going through it in a reliable space of time. Time is money.
In brief, curating content is basically assembling data from a variety of authoritative sources such as Instagram or any other big platform. But there is way more to it than just picking what is already hot and crossing fingers it will go viral.
If you are in a hurry, here are our top 3 Multipurpose WordPress Themes:
First and foremost, you have to be organized, that is a fact. After a while of doing it, you will develop a custom strategy, a system if you will, of collecting the material for your trendy website. Rewriting, categorization and arranging it in a meaningful way follows. It's a skill you can develop.
To save you time and have all the best tools available in one place, you came to the right place. We scoured the web for you and put together a list of the top themes for content curation.
Bring in front of the audience only what is worth reading and leave all the rest behind. Keep your news curation website updated regularly with top-notch texts, pictures, videos and everything in between and they will surely come back for more.
Choose the product from the best content curation WordPress themes collection you like best and craft a page now. Make it look modern and start attracting an endless number of guests.
The Issue

If you are searching for the best content curation WordPress theme, you better not miss checking out The Issue. This powerful and practical solution comes with an array of features and functions that will help you start online in close to no time. After all, you have a ton of front and internal pages, predefined elements and other treats that together form a full-blown blog or online magazine. By the way, with upcoming theme updates, you can expect even more stuff to drop your way. With The Issue, you will have no trouble managing and maintaining a top-notch online presence, regardless of your experience.
The Issue Features:
Seventeen home page demos
Nine article details
Social media integration
Ten custom-made headers
Full control over typography
Reactions aka emojis
Optimized for speed and SEO
100% monetizable
Mobile-ready and cross-browser compatible
Comprehensive documentation and friendly support
Sitka

Sitka is one powerful solution when it comes to content curation WordPress themes. You can employ this remarkable site canvas for all sorts of intentions, niches and industries. With the available demo material, you can experience yourself a quick-start to something new. Also, if you would like to perform modifications, you can, too, without the need to touch code. Moreover, Sitka is pretty minimal to the eye, making sure your content comes into view distraction-free. Also, Sitka will operate on all devices and web browsers flawlessly. It is optimized for fast loading speed and search engines as well. Get the ball rolling with Sitka now and make some noise.
Sitka Features:
Multiple beautiful and clean home page samples
All the necessary internal pages and then some
Gutenberg compatible
Start an online store with WooCommerce
Promo boxes
Various custom-made widgets
Fast and friendly support
Instagram feed and social media integration
3 post formats
Over 900 Google fonts
Squaretype

When building a modern blog, all you really need is Squaretype. This content curation WordPress theme equips you with all the necessary for a first-class outcome that will set you apart from the competition immediately. Moreover, no matter what niche or topic you are passionate about, with Squaretype, you can create the exact blog that you want. There are multiple concepts ready-made, however, you can also fine-tune and modify Squaretype accordingly. Thanks to the drag and drop page builder, you can do the trick with ease. Even if building your first blog, you will do it like a pro with the use of Squaretype.
Squaretype Features:
Multiple concepts in one tool
Entirely customizable with codeless/visual editing
Online store
GDPR compliance
Post reading time
Responsive and mobile-ready
Video backgrounds
AMP support
Mega Menu
Ten extra shortcodes for quick integration
Zeen

Zeen is an outstanding, modern, clean and sophisticated content curation WordPress theme. The tool is packed with goodies that will get you going in little to no time. In short, with Zeen, you can start your online project with little work and energy necessary. First and foremost, you can select from several predefined demos. And second, the editing and customization process requires no coding, as Zeen is coupled with the convenient visual editor. Moreover, Zeen is also responsive and flexible, working seamlessly on all devices and platforms. Like that would not be enough, you can also expand your project with an eCommerce section and use it to sell just about anything and everything.
Zeen Features:
Tipi builder
Light and dark modes
18+ predefined demo concepts
Sponsored posts
Reviews and affiliate links support
MailChimp integration
100% mobile-friendly and in tune with web browsers
Compatibility with all popular plugins for quick integration
Fully translatable
Gutenberg-ready
Plugin Hunt Theme

Similar to the highly popular Product Hunt platform, you can create your very own version with help from Plugin Hunt theme. A news curation related website can easily be forged and you need no prior coding or design skills to make it happen. Use the theme to build a popular page with all the latest and greatest. Cover one niche, one industry or make a generic page which includes just about everything.
Colors and fonts of Plugin Hunt WordPress theme are fully customizable for you to individualize the look of it easily. Visitors can submit content and help you with the process of gathering all the needed material for an engaging and up-to-date website.
Plugin Hunt Theme Features:
Customizable fonts and colors
Users can submit their content through clean forms
Classic and boxed layouts. Switch between these easily and pick the one you fancy most
Feature best daily content at the top of your page
Flash post view will help you keep guests stay for longer
WooCommerce ready
Social shares
Mobile responsiveness and retina readiness
Built-in blog for even more tempting content
Special section created exclusivelly for discussions
Saxon

If you need a solid WordPress theme for curating spectacular and compelling content, you better not miss Saxon. With Saxon, you will have a small breeze setting up the must-have page and take your project to new heights effortlessly. With its numerous predesigned demo layouts and other handy components, web development all of a sudden becomes fun and entertaining. Besides, dealing with coding and advance design tasks is also not necessary, what makes Saxon very user-friendly and convenient. Moreover, Saxon is mobile-ready, compatible with Gutenberg and in tune with retina screens and modern web browsers. The experience skimming through your content and reading enticing articles will be outstanding with Saxon.
Saxon Features:
Sixteen easy to use and contemporary demos
Loads of ready-made and reusable blocks
Featured posts header slider for your hottest content
Smooth scrolling animations
Optimized for search engines and speed/performance
Saxon supports multiple authors
Google AMP support
100% WooCommerce compatibility for online stores
Complete step by step documentation for quick and straightforward website launch
Social sharing and social following tools to scale your reach over and above
Benko

If you would like to differentiate yourself from the masses, Benko is the creative content curation WordPress theme you need. With its clean, minimal and sophisticated web design, Benko brings to the table a one-of-a-kind experience that everyone will absolutely adore. Stunning home layouts and internal pages, various headers, multi-level drop-down menu, preset ad placements and unlimited color options, Benko has it all and then some. You can start your online project instantly, all it takes is one click to import the demo you dig, and that's pretty much it. From then on, you can either use Benko as is or improve and enhance it with your individual touches and customize the web design to your heart's content.
Benko Features:
100% mobile-ready, retina-friendly and cross-browser compatible
WPBakery drag and drop page builder for codeless web development process
Follows all the latest web trends and tech regulations
Sticky sidebar
Instagram widget
Monetize Benko once you grow it to a parrticular volume with ready-to-use ad placements
Benko is entirely translatable
Child theme is also part of the kit to take your web space to a new degree
Upload custom logo and make Benko follow your branding to a T
Free support and updates for as long as you use the tool
Epic Hackers Theme

Another tool which can help you clone a well-liked website, a service called, Growth Hackers. We are talking about Epic Hackers which will turn your idea into reality quickly and efficiently. Look no further if you plan to help companies, brands and communities grow their potential above and beyond. Your ultimate site can sport all sorts of features like links, AMA (ask me anything), discussions view and more. If you stumbled across a fantastic article, the Posts section can have it featured for others to enjoy it. You are just moments away from crafting an online platform for like-minded people.
Epic Hackers Theme Features:
Bring in front of the audience interesting articles with links and personal commentary
Easily add new questions to start a discussion
Cool function to run your very own AMAs
Supports videos
Posts section where all the compelling articles and content is gathered
Questions can be answered by the community
Simple, yet captivating, profile pages
Keep your users informed about different activities with the Notify Me plugin
Pick the color of choice and stand out from the crowd
Distinct look of the web design
The Curator

WordPress theme specifically developed for artists and museums interested in displaying their content in a chronological format. But bear in mind, you you do not have to limit yourself with The Curator theme. Anyone who is interested in this type of content presentation can benefit from it and the features it comes with. Now you can show your work or any other content in a historical timeline that will help you impress your visitors and hook them immediately. Three of the newest features worth mentioning are left and right swipe (touch friendly), access to theme options via Theme customizer and overflow text scroll for those long timeline titles.
The Curator Features:
Gives you total control over color options – incorporate those which you believe will represent the content best
Astonishing parallax effect
Custom background to further modify your site look
User-friendly administrator
Translation ready
Superb animations and effects
Control the timeline by year, decade, century, etc.
A semi-reposnive layout
The finest chronological timeline
Cross-browser compatible
Curated

A sophisticated way of showcasing all the trendy and most read stories from around the web. Curated is a content curation WordPress theme to realize your online project and start attracting new visitors as soon as possible. With its practical drag and drop page builder, you will have plenty of fun putting together the ideal page. Who knows, maybe is your news curation website which will become the next big hit. Highly extensible, Curated theme is ready to take any challenge and allows scaling your project beyond belief. Responsiveness and awesome mobile navigation ensure a top-notch user experience for the guests to come back for more.
Curated Features:
Minimalist design, content focused
WPML and translation ready
Boxed style and infinite scroll
Cross-browser and mobile friendly layout
Review scores
Mega Menu for a comfortable navigation
Cautiously crafted Moz-Slider
Google rich snippet
Responsive ad sections
Unlimited color options and more than 630 fonts
WP-Drudge

Even if you are completely new to content curation, with WP-Drudge theme, you can do it like a true professional. Heck, if you aren't even experienced website builder, you can complete incredible work with a powerful WordPress theme. Simple to use, yet the effect if super impactful.
Posting links, blog posts, videos or any other content you find beneficial for your targeted audience is easy as pie. This druge report style WordPress template has you sorted with all the needed features and extension. Once you install it, you can start adding the material almost immediately. Instead of spending countless hours designing the website, most of the work is already completed. It is only a matter of you picking up the stuff from the web and feature it on your content curation WordPress website.
WP-Drudge Features:
Search engine optimized – get ranked high
Change the layout, fonts and colors
Built-in and ready to use spots for advertising
Add improvements with the functional drag and drop customizer
Great user experience – mobile friendly
Two RSS feed widgets
Allow guests to comment on any content you publish
New modifying options with new updates
Add a feed of Google News links by keyword phrases
Simple, basic and very straightforward WordPress news aggregation theme
Pinstagram

Inspired by Pinterest's look and the great navigation and categorization the web design offers, Pinstagram gives you all the must-haves for the next big success story. With the implemented features of the highly popular content sharing platform, you can, too, become the leader in your niche. Create an excellent first impression with showcasing the content in the most impressive way. Pinstagram will not leave you lacking in features. Like any other from our top collection of content curation WordPress themes, this one is packed with goodies for developing an expert-looking website. However, it is not all only about the looks. The usability matters most and Pinstagram theme is well aware of it. Give it a go if this style is what you are after.
Pinstagram Features:
Increase the pageviews with a design visitors are familiar with
One click install with video tutorials
Integrated Google Web fonts
A list of valuable shortcodes
Social sharing buttons
Ad placements can be put wherever on the page
Tons of ready-to-use icons
6 home page layouts and 4 different inner pages
One year of support and updates
We really appreciate you for visiting PremiumCoding and reading this article! Now you might also want to check out
our Themes
here.