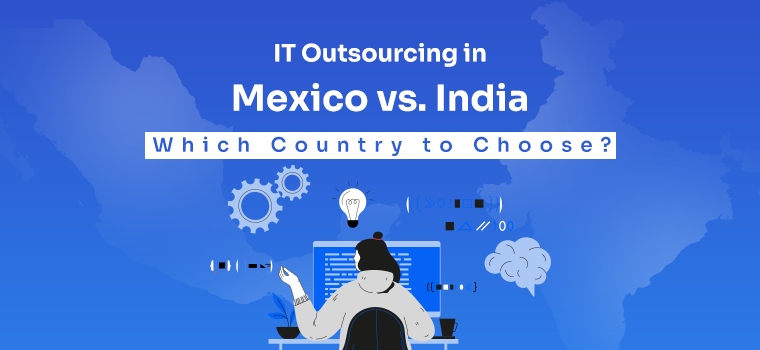 Mexico vs. India for IT Outsourcing: Which One to Choose?
Outsourcing has become an integral part of the global IT sector and is now a widely chosen approach by businesses aiming for digitalization. Today, a business can outsource any and every of its IT requirements, from software design and development to IT infrastructure, tech support, and beyond.
However, outsourcing IT requirements is certainly not a cakewalk process and requires businesses to make various critical decisions, such as choosing a development agency to outsource IT requirements.
To add to that, what matters more than choosing the right development agency is choosing a development agency from the right destination. This factor is paramount to harnessing maximum benefits from IT outsourcing.
Now, you must be wondering, "There are so many countries across the world. How do I choose the right location for my IT outsourcing project?"
Well, let us tell you that out of all the countries across the globe, India and Mexico are the key players in the global IT outsourcing market. For this reason, more and more businesses are choosing these two destinations to outsource their requirements.
However, which country should you choose to outsource your IT requirements to, India or Mexico? In this blog, we will compare the two locations in terms of their strengths and weaknesses for IT outsourcing. By the end of the blog, you will be able to choose the right development location for outsourcing your IT requirements.
Let's start the blog by understanding more about why businesses choose to outsource their IT requirements.
Software Development Outsourcing: A Trend
Source: Precedence Research
The changing shape and rising potential of technology have provoked entrepreneurs across the globe to invest in IT solutions and technologize their businesses. There are numerous ways through which you can build a tech product, like going for self-development, using development tools, and outsourcing your IT requirements.
IT outsourcing is the most efficient, practical, and reliable approach in this matter. Wondering why? Take a look at some of the key highlights of outsourcing IT requirements:
Better cost-efficiency
Reduced human resource requirements
More time to focus on business management
Improved quality of product
Exquisite scalability and flexibility
These are just a few benefits of outsourcing software development, among many others. Naturally, every business wants to benefit in these aspects, resulting in rapidly increasing demand for IT outsourcing.
Let us also tell you that when you plan to outsource your IT requirements, you must choose between various outsourcing models, which are onshore outsourcing, nearshore outsourcing, and offshore outsourcing.
While the onshore model deal with hiring domestic outsourcing agencies, the nearshore and offshore models are based on hiring international IT outsourcing companies.
The former approach is highly common, while the latter two (i.e., nearshore and offshore development) are much more promising and enable businesses to experience flawless IT outsourcing.
Regardless of this, it all boils down to choosing the right destination for IT outsourcing. As we mentioned earlier, India and Mexico are market leaders in this aspect and are widely chosen by businesses to outsource their IT requirements.
Moving further, we will compare the two countries to find out which of them is an ideal choice for IT outsourcing.
Outsourcing to Mexico vs. India: Which One to Choose?
There are numerous factors that you need to keep in mind when choosing a location for outsourcing development. Here we have covered seven critical factors with a comparative view between Mexico and India for a better understanding of the outsourcing capabilities of the two countries.
Time Zone Compatability
Businesses often prefer choosing development outsourcing partners that work in a proximate time zone as theirs. This preference is often prioritized by businesses that require frequent coordination with the development team.
While the objective might be challenging to achieve with nearshore and offshore models, it is not at all impossible. You can select a development agency from a country with minimal time zone difference and benefit from hurdle-free communication.
In simple terms, India is one of the most neutral locations when it comes to outsourcing efficiency. This is because India is 3.5 hours ahead of Europe and 4.5 hours ahead of Australia. Moreover, Indian developers are known for their flexibility and willingness to work in their client's time zone.
On the other hand, Mexico is not so efficient in terms of geographical proximity to other countries. Moreover, you might not always be able to find developers from Mexico who are ready to work in your time zone.
Ease of Communication
Efficient and continuous communication is an integral part of developing a tech product. Many businesses avoid outsourcing their IT requirements to international companies as they believe this approach is inefficient in terms of communication efficiency and ease. This is mainly due to language differences between the outsourcer business's country and the outsourcing agency's country.
However, let us tell you that this does not necessarily has to be the case. A lot depends on the location you choose and the communication models you decide for your project. Today, most countries are aware of the tremendous scope of the international IT market and are working to encapsulate maximum market share. This includes taking measures to overcome language barriers and differences.
One of the best examples, in this case, is India, which comes second after the United States in terms of most English speakers. Today, most businesses are easily able to communicate with Indian developers owing to their vast English proficiency. This is in contrast to Mexico, where Spanish is still the most prominent language, and English is rarely spoken, making communication challenging.
Therefore, regardless of where you are located in the world, you can easily outsource your IT project to Indian developers and stay assured about communication efficiency.
Software Development Rate
Software development rate is an important factor for any business planning to invest in technology. Moreover, a lower developer cost is the primary reason why businesses choose to outsource their IT requirements in the first place. This is because it is easy for businesses to optimize the development cost of the project by simply outsourcing their project to a location with a low development rate.
Businesses can get a rough estimate of how much capital they will have to invest in software development by multiplying the hourly development rate by the expected number of hours it will take to complete their project.
Software development rates in Mexico usually range between $25-50 per hour. On the other hand, if you outsource your IT requirements to an Indian agency, you will be charged anywhere from $15-25 per hour. Therefore, it is clear that India has the upper hand when it comes to cost efficiency and budget-friendliness.
IT Infrastructure
It goes without saying that creating a high-end tech product calls for exquisite IT infrastructure and robust tech capabilities. Therefore, it is essential to ensure that the location where you are planning to outsource your requirement has a robust IT infrastructure.
India is a rising technology hub and is known for its powerful IT infrastructure. Today, Indian cities like Bangalore, Pune, and Mumbai are known for being the market leaders when it comes to IT growth and development. This is evident in India's critical role in the growth of AI, blockchain, and other technologies.
Mexico, on the other hand, is still in a transitional stage in this matter and is growing its IT infrastructure. As a result, choosing a Mexican development partner might not be the most suitable option for you, especially if your project requires high-end technologies and tech expertise.
Tech Workforce
Today, many countries are focusing on growing their tech workforce in order to leverage their skills and become significant players in the global IT outsourcing market. The better a country's tech workforce will be, the easier it will be to develop a high-quality digital product.
Speaking in numbers, India has a vast pool of 5.2 million software engineers, while Mexico has only 225,000 developers across the country. This wide difference between the two countries makes it clear that choosing India for your IT outsourcing project will enable you to leverage the wide tech talent pool that the country offers.
Moreover, engineers in India are highly skilled and are recognized all across the globe for their tech prowess. This makes choosing Indian developers a better option for businesses looking for high-quality tech products.
STEM Growth
Science, Technology, Engineering, and Mathematics (STEM) education is a paramount factor in determining how bright a country's future is in tech growth. The more a country focuses on STEM education, the more likely it is to become a global leader in technology.
As a result, more and more countries are focusing on strengthening their STEM education to improve their chances of becoming a global leader in technology and tech innovation. It is a commonly known fact that, at present, India has the largest number of STEM graduates across the globe, with a global contribution of 31.7% in STEM talent.
Mexico, on the other hand, is still growing its STEM workforce and is likely to take many years before becoming a significant STEM country. Additionally, India offers a robust learning infrastructure to its STEM talent, further boosting its growth in the field.
Therefore, by choosing Indian talent for outsourcing your IT project, you can ensure the long-term growth and sustenance of your business and benefit from world-class partnerships.
Political Stability
Political stability is an essential factor in every type of international outsourcing. Businesses must thoroughly consider the current as well as past political scenario of a country before making the decision to hire a developer from that particular country.
A country with an unstable political situation can often result in hurdles in the development process that can extend the development timeline of the project.
It is a commonly known fact that Mexico is not one of the most politically stable countries in the world. The dynamic political scenario often results in the disruption of international trade and commerce.
India, on the other hand, is known for having a rich history of political stability. Not just that, the Indian government has been explicitly promoting technology and tech growth across the country. This makes choosing India for development outsourcing a sensible option for businesses.
These were a few points to consider when choosing a development agency from India or Mexico. Regardless of which country you choose to outsource your IT requirements, it is essential to follow the correct process to find the right development agency for your project.
In the upcoming section, we will discuss the process of hiring a development outsourcing agency.
How to Hire a Development Outsourcing Agency?
In order to leverage outsourcing and benefit from seamless project completion, it is essential to hire the right development agency that is equipped with the appropriate skills and expertise required for the project. Here is how you can find and hire a development partner for your project.
Search
The process of hiring a development agency starts with looking for prospective agencies on the Internet. You can do this by using search engines like Google and Bing. Alternatively, you can also use platforms and forums specially created for the purpose of connecting businesses with development agencies like GoodFirms and Clutch.
These platforms also enable businesses to sort and filter the development agencies based on their location, reviews, experience, etc. This way, you can easily find relevant agencies in the location of your choice, be it Mexico, India, or any other country. To do so with search engines, you can simply fire search queries like 'top development outsourcing company in India', 'top development outsourcing company in Mexico', etc.
Review & Shortlist
Once you have a filtered list of development agencies based on your preferences and likings, you can go ahead and review each agency one by one. Some of the most commonly used criteria in this aspect are reviewing the company's portfolio, client testimonials, and service offerings.
This way, you will be able to determine whether or not the prospective development partner has any experience in working with your niche and if their clients are satisfied with their services. This is an important step of the process and should be executed carefully and consciously. Based on the outcome of this stage, you will be able to further shortlist the prospective development agencies and will end up with a list of the top companies for your project.
Interview
Once you have a list of, let's say top five or ten development agencies that hold adequate experience and expertise for your requirements, you can go ahead and interview each agency one by one.
Do note that in case you are sharing any of your project's specifications with the development agencies while interviewing them, you must bring an NDA into action to ensure that your idea's integrity is protected. Some of the most common evaluation criteria in this stage are development cost, timeline, technology stack, etc.
Select
After interviewing all the potential development partners, you will be able to determine which of them is the right fit for your project. You can even select multiple development agencies (multi-sourcing approach) in case you have a large-scale project and leverage the prowess of multiple development agencies for your project.
Once you have selected the development partner(s) for your project, you can go ahead and discuss other specifications of the project, like engagement models, features, etc. and kickstart your project.
Final Thoughts
Whether to choose India or Mexico for software development outsourcing is a debatable topic. Through this blog, we have aimed to provide detailed information on the benefits and limitations of each of these countries in terms of IT outsourcing.
By carefully weighing these pros and cons, you will be able to determine which of these locations is ideal for your project. Moreover, by following the process to hire a development outsourcing agency mentioned in this blog, you can easily find the right development agency from the most ideal location for your project.
We really appreciate you for visiting PremiumCoding and reading this article! Now you might also want to check out
our Themes
here.