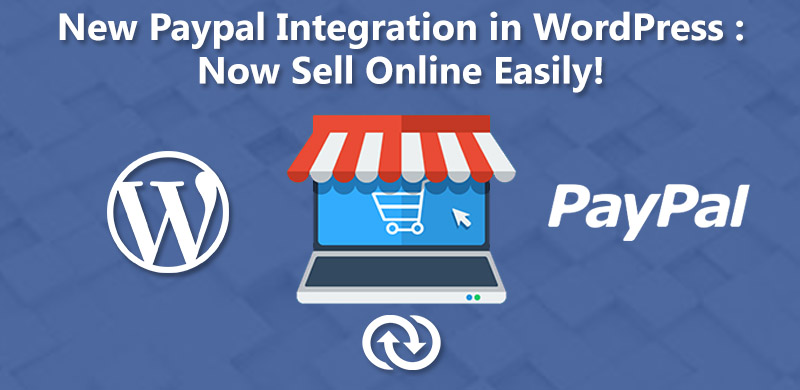 New PayPal Integration in WordPress: Now Sell Online Easily
Owning a WordPress store and want to expand your business internationally? What are you waiting for then? Is there anything you are stuck at? Is it the payment method? Hurray! Your worries are gone. WordPress has now made it easier for bloggers and store owners to receive payments from across the globe by integrating PayPal to WordPress.
Wondering what is PayPal?
PayPal is an American company that is operating a worldwide online payments system which supports online money transfers. This platform offers an electronic alternative to the traditional paper methods like cheques and money orders. PayPal comes with the enhanced security of the information of your customers.
As many web hosting service and various publishing giant has already supported these PayPal payment options, it becomes easier for WordPress store owners to integrate this with your online store. Once the integration is done, things become a lot easier and quicker.
This process was first executed with an aim of making the existing processes simpler. And hence for the customers using PayPal first time, the process will be lasting for 1 min rather than 15 mins. Payment by PayPal can be simply integrated with the WordPress website by inserting a simple button from the drop-down menu in any post.
Automattic launches a payment button
A few weeks ago, Automattic launched a simple payment button that would allow users of the hosted blog/site to accept payments with a few clicks. This feature of PayPal is with one click is now only available to the users who are using paid premium and business accounts that have the cost of $8.25 or $24.92 monthly. There are fundamental costs of working with PayPal which may include fees or exchange rates or any other charges.
For an eCommerce website, when you are inserting a button for PayPal payment option, WordPress.com asks for various details like some name, description, cost, and photo of the item. And post that, it will ask for the PayPal address in order to make the transactions safely and precisely.
Paypal Checkout Page
The customer will then be taken to PayPal's standard checkout page. But, this is the page that can be customized by the WordPress website owner. It is really a great move by Automattic to get PayPal integrated on the WordPress website and this move simply streamlines some of the high-profile integrations for the payments service. Apart from that, the idea of turning the WordPress.com CMS into a perfect marketplace with some clicks is the interest of a lot of people.
In the field of service dominance, there were many challenges that have come and gone, but PayPal is the only leading payment processor since the launch. It has been a priority for virtually every country where access to the internet is available. PayPal has remained a standard choice for payment and donation method on sites like eBay and has a steady reputation as a leading way to earn and process revenue on WordPress blogs as well. eBay, after purchasing this platform has offered a huge amount of money for the promotion of PayPal as the single best online payment processor in the world. The interface provided by PayPal offers low transaction fees along with the simplified use of electronic checks & credit cards and is out of the competition in every aspect.
PayPal and WordPress
PayPal is such a platform that it virtually plays an important role in the marketplace and makes the WordPress users integrate their WordPress store with the PayPal for better and easier payment options for their customers. This functionality does not come along with WordPress core installation, it must be enabled with the help of certain plugins, HTML code and a perfectly planned designing of the website. This platform is not only a payment gateway, but it can be used in a variety of different ways as its function can be used to adapt shopping cart environments, membership or premium content subscriptions. But, while integrating PayPal into an existing WordPress environment, all of this implementation need a slightly different plugin and approach.
Wondering which of the plugins should be used to make the integration process easy and fast? Don't worry! Here, I 'll list out some of the well-known plugins used for PayPal integration with WordPress website. Check out the list and make the best out of the PayPal integration with WordPress website.
This is a simple and powerful plugin that allows you to accept the payments easily using PayPal. Just one shortcode and all your work are done. It also lets you customize the appearance of your payment form by providing a user interface.
FEATURES
Accepts all PayPal approved currencies
Fixed or variable payment amounts
Easy to use range of shortcode options
Fully editable
Loads of styling options
Multi-language
Add custom forms anywhere on your site
Downloadable payment records
Fully editable autoresponder
Instant Payment Notifications
PayPal Responder lets you sell particular products on your WordPress site using PayPal. You can let your users pay for the product they buy, using PayPal and an autoresponder can be set up which will send the users a link from where they will be able to download the product offered by you. This plugin does not contain any cart or checkout process that makes the shopping experience complicated, it just creates the shopping a single click process.
FEATURES
Simple, light-weight PayPal plugin
Can handle multiple products
Can accept any currency PayPal can handle
Set customer return URL
Helpful tags available to use in auto-responder template
Use default PayPal 'buy now' button or upload a png button of your own
PayPal Donations is a plugin that adds a shortcode or a sidebar widget to the WordPress website. Install the plugin, go to settings and then PayPal Donations to configure the plugin. This plugin will let you choose a thank you page to which your users can be redirected after the donation. The shortcode that will be required is [paypal-donation] in order to insert the button in your pages and posts.
WooCommerce is one of the most popular WordPress eCommerce plugins available out there. PayPal for WooCommerce has in-built support for the standard PayPal accounts. This plugin provides a total support for all the WooCommerce websites. PayPal for WooCommerce supports PayPal express checkout and PayPal Pro API support. With this plugin, a PayPal payments pro tab will be automatically added to the checkout settings in WordPress wherein you will be able to configure the plugin.
FEATURES
It supports PayPal Express Checkout.
It is compatible with WooCommerce Subscriptions.
Fully supportive to WooCommerce Payment Tokens.
Contains advanced PayPal Payments methods in order to make the payment process fast and easy.
This plugin is a WordPress plugin that helps to make the shopping cart process easier than the regular process. Easy PayPal Shopping Cart will let you sell on your Magento store. All you need to do is to insert 'add to cart' button on any WordPress page, and then it will take the user to PayPal for completing the payment process. With this plugin, you are allowed to set up redirect pages for the confirmation and thank you notes.
FEATURES
It contains Button Inserter – Just enter your item name, price, etc. and it makes the Cart button for you
Works with any WordPress Theme
Built-in support for 18 languages
Built-in support for 25 currencies
PayPal testing through SandBox
Choose 2 different PayPal button styles
How the PayPal window opens
Your shop URL
Choose cancel payment URL
Choose successful payment URL
WPforms is one of the most beginner friendly contact form plugins used for WordPress website. This is a beautiful form builder plugin that allows you to create various kind of forms such as contact form, email subscription form, order form, payment form and another type of online forms with a simple few clicks process. WPforms contains the PayPal add-on which will allow you to accept the payments. With this plugin, the Magento store owner can create his own forms. These forms can be used at various places such as payments, donations etc.
FEATURES
It contains drag & drop form builder
Offers a wide range of form templates
It offers responsive mobile friendly design
Contains smart conditional logic
It provides instant notifications for various processes
Offers entry management
This plugin has made payments Easy
Has the marketing & subscriptions offers
This plugin is easy to embed
It offers spam protection
Well, this was a guide to integrating the PayPal payment gateway to your WordPress website. Integrate it today and make shopping as well as payment easier for your customer. Not only your customers, but this will also make it easier for you to keep a track of the sales made on your Magento eCommerce store.
Author Bio
The author is Harshal Shah, CEO, and founder of Elsner Technologies, a professional WordPress development company & global IT consulting firm. He is a tech evangelist with a reputation to provide optimum solutions for business automation and solving real-life problems with the power of IT.
We really appreciate you for visiting PremiumCoding and reading this article! Now you might also want to check out
our Themes
here.