12 Best Clean WordPress Blog Themes 2020
When diving into the blogging space, you better consider using clean WordPress blog themes. These are highly content-oriented, making sure the experience is distraction-free.
Simplicity and minimalism win most of the time.
After all, it's not only that all the special effects and other fancy stuff may make the user leave early, but they also bloat the blog, making it load slower.
If you are just starting out, keep things simple and to the point, and that's when these beautiful web designs come into play.
No matter which theme you choose, it is a guarantee that you will end up with an outcome sooner rather than later.
Note: You do not need to touch a single string of code even when it comes to performing customization tweaks and improvements.
Moreover, these tools are also fully compatible with all popular devices, modern web browsers and retina screens. Not to mention, SEO-friendly and optimized for loading speed to promise top-notch performance at all times.
Without further ado, take action now and make an immediate difference hassle-free. Newbies and professionals, you are welcome.
The most impressive clean WordPress blog themes to date
Urban

When building a blog, there is little chance that you want to introduce all this fancy stuff and special effects. For the most part, you want to keep it clean and minimal, so all the focus is on your text and visual masterpieces. You achieve great results with Urban. You can employ this WordPress theme gem for nearly any topic or niche you would like to cover with your blog. Even by employing it out of the box, Urban caters to heaps of different tastes smoothly. Of course, feel free to perform customization tweaks and improvements and personalize Urban according to your liking.
Valkyrie

The versatility of Valkyrie knows no limitation. In other words, you can employ this clean WordPress blog theme for all sorts of different intentions. Whether you are starting a new project or redesigning the existing website, make it happen with Valkyrie and enjoy the superb outcome. Since there is no coding necessary to be able to work with Valkyrie, everyone can greatly profit from this nifty site canvas. Valkyrie also rocks six demos, CSS3 animations, sticky header and Instagram feed. It is also fully in tune with all the latest trends and regulations for continuous seamless performance. Let Valkyrie do the trick and get you going right away.
Anariel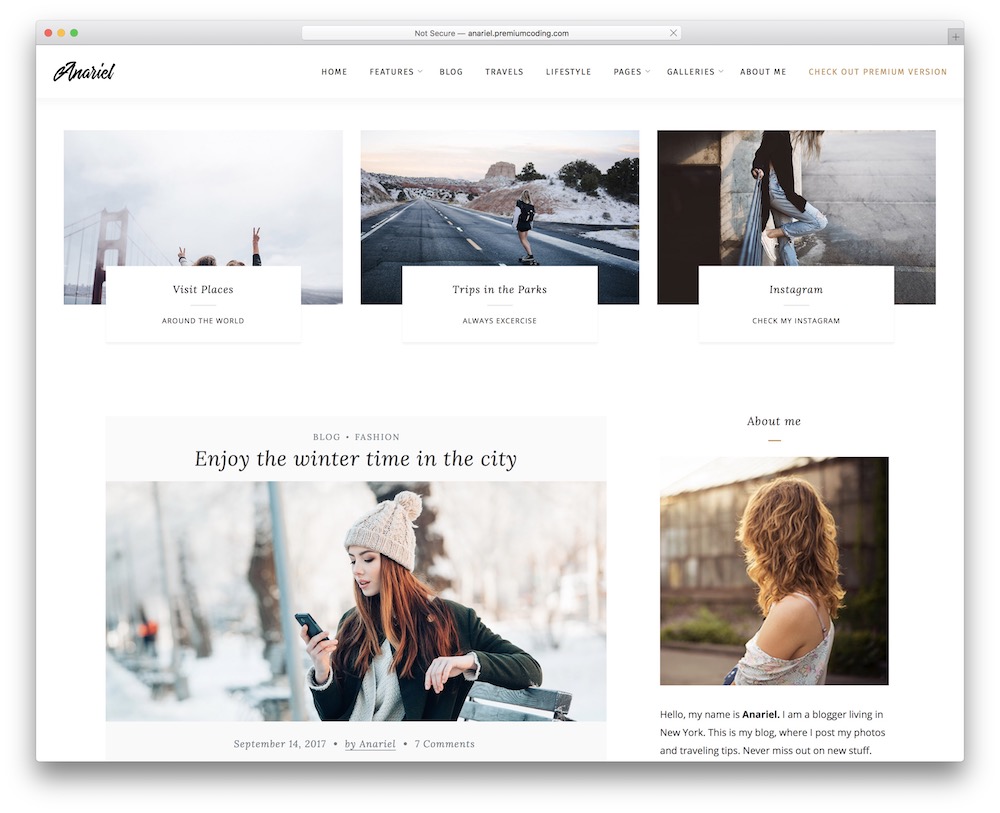 If you are particularly interested in creating a fashion blog with a clean and creative design, Anariel is the one. A solution that suits users of all skill levels, from utter beginners to experts. Meaning, no excuses when creating a new blog, as you can do it without any effort by utilizing Anariel. There are many samples available for you to pick the one that resonates with you best out of the box. Still, if you would like to personalize the default settings, you can do that, too. Five blog post types, six different gallery styles, Google fonts, Slider Revolution and amazing documentation are just a few of the goodies that come with Anariel.
Amory

Getting started online with Amory requires no experience whatsoever. It is remarkably simple to use WordPress theme that promises the creation of creative, clean and powerful blogs. Also, there is no rule to what for you would like to use Amory. That said, whether you go for a travel, fashion, personal, business or any other blog, Amory covers all the topics, niches and industries effortlessly. With Amory, you get different home and internal page layouts, custom widgets, Slider Revolution and Instagram feed amongst many other goodies in between. If you are ready to make a difference, do it now with Amory and enjoy the A-grade outcome.
Sitka

Cleanness and modernism are the two main characteristics of Sitka. When building a blog for your new or existing project, make it happen with style and fashion, thanks to Sitka. Many samples are available with one click installation process for you to start your thing in the snap of a finger. Sitka is compatible with all the modern devices, web browsers, retina screens, search engines and popular plugins. It is also optimized for fast loading speed, making sure to deliver superior performance at all times. You can also expand your blog with an online store section due to the smooth integration of WooCommerce.
Suga

Clean blogs and immaculate online magazines, that's what's possible to create with Suga. A tool powerful enough to cater to any taste, no matter how meticulous. With Suga, you can kick things off in just a few clicks, coming out with a full-blown solution without a sweat. Suga contains an array of predefined demos, tons of internal page layouts, practical Ajax search function and over 65 modules to create the layout that is precisely to your liking. There are also ready-to-use header and footer styles for you to mix and match. Of course, all the sections of Suga are also fully editable for complete customization freedom.
Stein

For everyone who decides to start working with Stein, it is a guarantee that you will have a very stand-out blog. This clean WordPress theme rocks a simple and distinct look that appeals to a broad audience. That said, you can utilize Stein for anything from fashion and travel to food, personal, business, you name it, Stein suits any topic with ease. The layout is fluid, instantly adjusting to different devices, smartphones, tablets and desktops alike. You can also translate the blog to any language you want. Mega menu, dark and light modes, Instagram feed, load more navigation and post views counter are just some of the extra highlights that come with Stein.
Harmuny

In this day and age, you do not need a whole lot when it comes to building a clean blog. Not just that, but you also do not need to know how to code and do the design work. With a ready-to-use theme, like Harmuny, you can start your blogging journey in close to no time. You import the demo material with a single click and from then on, you only need to perform a few tweaks here and there, and you are ready to go. There are multiple samples to choose from, even an RTL and a dark version. Documentation and friendly support also come part of the Harmuny kit for your convenience.
Dreamla

Forge your dream blog with Dreamla now. That's right, since this clean WordPress blog theme sports it all and then some out of the box, you can have a final solution available speedily. Needless to say, you need to have no coding and no design knowledge. Plenty useful widgets, sticky sidebar, social media integration, 900+ Google fonts, WooCommerce shop and many other excellent features await every Dreamla user. If you are ready to get the ball rolling, drop everything and go with Dreamla. Expect a sharp and impactful end solution appear in front of your eyes with little to no effort necessary.
Aena

Aena is a super content-focused WordPress theme, ensuring a distraction-free experience. In other words, if you are on the hunt for a clean WordPress blog theme, Aena will undoubtedly do the trick. While you can use Aena out of the box, you can also take things a step further by personalizing it and modifying it according to your liking. Some of the goodies that you get are infinite scrolling, video support, hamburger menu and different sidebar layouts, to name a few. The theme is also fast loading and SEO-ready, as well as follows all the other tech and web trends.
Doris

Doris is a WordPress theme with a distinct touch to it. To express your creativity in written and visual form, let Doris help you bring into being a powerful blog. Right away, you can select from any of the five demos, which you can further modify and improve. Of course, you will never need to play with the code, thanks to the integration of BKNinja composer plugin. Other highlights of Doris contain sticky sidebar, Ajax load posts, adjustable header, social sharing and review system. The whole structure of Doris is mobile-ready, cross-browser compatible and optimized for loading speed, SEO and retina screens.
Exopress

Exopress has no limitations when it comes to creating a blog. If you are interested in personal blogging or pretty much anything else, establish a page with Exopress now. Waste no more time, as Exopress takes care of all the heavy lifting for you. In other words, you only really focus on refining the design, making it match your signature style precisely. Different blog variations, drag and drop page builder, custom slider, contact form, practical inner pages and CSS3 animations to spice things up – all this and more is what you get with Exopress. Start with the right foot forward and enjoy the end product appear in front of your eyes swiftly with Exopress.
We really appreciate you for visiting PremiumCoding and reading this article! Now you might also want to check out
our Themes
here.