17 Best WordPress Photography Blog Themes 2020
With any of these impressive, easy to use and high-quality WordPress photography blog themes, you can start on the web in close to no time.
No matter which you choose, you have the majority of the work done for you out of the box. And if you decide to employ the sample material as is, expect almost instant blog realization. Yes, that's how quick you can start sharing your story on the world wide web.
To top it all up, you also do not need to have any prior experience, as there is no coding knowledge necessary to work successfully with a WordPress theme.
Publishing compelling content in the form of beautiful photography and enticing texts has never been easier. With all that said, if you need a quick photography blog fix, you can now get things moving forward in just a few clicks on the mouse.
Moreover, all these killer WordPress photography blog themes are also responsive and mobile-ready. In other words, they instantly adapt to all devices, from handheld and up to desktop. Additionally, they are optimized for speed and SEO, retina-ready and in tune with all popular web browsers.
Spread the word out now and start your fresh project like a pro from the get-go.
If you are in a hurry, here are our top 3 WordPress photography blog themes:
| | | |
| --- | --- | --- |
| THEME | TYPE | RATING |
| LandScape | Photography WordPress Theme | 5.00 |
| Everly | Photography Blog | 5.00 |
| Blabber | All-in-One Blog & News WordPress Theme | 5.00 |
LandScape

LandScape is a magnificent, easy to use and impactful WordPress photography blog theme. You do not need to have any experience with establishing websites to be able to work with LandScape. The simplicity and the codeless process allow everyone to get the most out of LandScape without a hassle. In the kit, you get eight trendy and modern home page layouts which you can use as is or improve further. Also, LandScape is 100% mobile-ready, responsive, optimized for SEO and fast loading. The experience browsing through your content will always be on point with LandScape. Take charge now, turn LandScape to your advantage and shine online with your attractive photo project today.
Ragnar

With the collection of six different samples out of the box, you can quickly find the right look you would like to sport with your photography blog. Ragnar is an outstanding WordPress theme with all the necessary equipment and then some. Of course, Ragnar also follows all the current web and tech trends to ensure top-notch performance at all times. From search engine optimization and fast loading speed to Revolution Slider, CSS3 animations, Instagram feed and gallery posts, Ragnar rocks it all and a horde more. You can also select from boxed and full-width layout variations. If you would like to create a strong first impression with a bold design, Ragnar is by far your best option.
Everly

Nowadays, spreading the word out should not be too much of a hassle, thanks to all the material that is predefined for us. With a striking WordPress photography blog theme, you can start sharing your story in close to no time. Have in mind, there are multiple demos at your disposal, each available as a full-blown blog already. With that in mind, you can effortlessly use the sample out of the box, just stuffing it with your details, information and content. On the flip side, you can also perform additional customization tweaks and modify Everly however you see it fit your needs and regulations best. One thing is for sure; the outcome will be DOPE.
Itonga

Itonga is a spectacular and impactful WordPress theme that suits any photographer out there willing to start a blog. With the dark and bold design, you will have no trouble triggering everyone's attention. But you can also go with the white mode. Moreover, Itonga includes eight different portfolio showcase layouts, six different portfolio listings, blog styles and fully customizable color schemes. You will have a blast setting up a blog with Itonga, as you only need to mix and match the available, and you are done doing the work. Additionally, you get documentation, access to free support, child theme and an array more goodies that will do you well.
Melady

Melady is a super flexible and adaptive WordPress theme, suiting a photography blog, too. It comes with all these ready-to-use page layouts and elements that you can take to your total advantage. Moreover, when it comes to customization, you will never need to write a single string of code when working with Melady. Parallax effect, mega menu, over ten home demos, translation-ready, GDPR compliant and social media integration are some of the highlights of Melady. The layout is also in harmony with all modern devices, web browsers and retina screens. Also, the performance of your blog will always be top-notch.
Codate

Codate is a clean, modern and enticing WordPress blog theme for all the photographers out there. If you would like to create an online hub to share all your photographs and other insightful articles, make it happen with the use of Codate. It is a tool that comes with several demos, three headers, pre-made blocks and remarkable customization capabilities. While you can work with Codate as is, you can also step things up and adjust it according to your signature style. The design is fast-loading, mobile-ready, cross-browser compatible and search engine optimized. Last but not least, Codate comes with a lifetime worth of updates and professional support.
Harmuny

If you fancy creativity mixed with simplicity, you better take a peek at the striking Harmuny. Its different ready-to-use demos offer you to start on the internet in the snap of a finger. Keep in mind, you have it all at your disposal, and you also do not need to code; what else you need? When building a photography blog using WordPress, Harmuny will surely do the trick. Some of the other features include six headers, three footers, five sliders, sitcky sidebar, GDPR compliance and smooth animations, to name a few. Of course, there is an array more to choose from for you to take to your total advantage and shine online with a top-notch blog.
Camila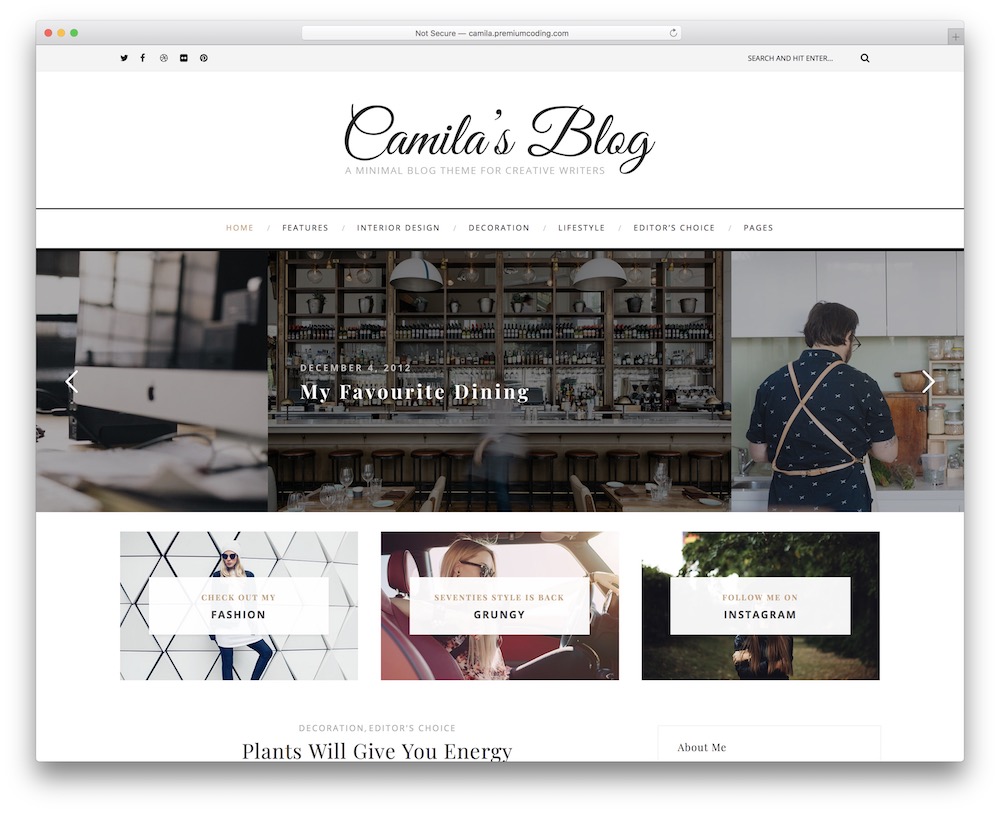 Camila gives everyone a chance to start online sooner rather than later. In fact, you can kick things of this very moment and have a page all set up in just a few moments. Due to its versatility, you can easily use Camila as a WordPress photography blog theme, as it supports all types of content. The kit of goodness sports four predefined home page samples, all creative and very appealing to the eye. Moreover, Camila covers other features, like animations, custom shortcodes, social media integration and email subscription, too. You need nothing else if you would like to speed up the crafting process of your enviable photography blog.
Arkona

Style for miles, that's what's up when it comes to the surprising Arkona. If you are on the hunt for an A-class WordPress photography blog theme, you came to the right place. We hand-collected only the best solutions which you can currently find on the market, so you do not have to do the hard work yourself. By heading over to the live preview page, you can investigate Arkona further and see all the amazing perks it brings to the table. The look of Arkona is very clean and minimal, perfectly altering to any niche or even if creating a general blog. Other specialties include social links, eleven blog listing layouts, child theme, free lifetime worth of updates and fully translatable.
Blabber

Blabber is an original, creative and all-around WordPress photography blog theme with a broad assortment of layouts and elements. The tool is equipped with the user-friendly Elementor drag and drop page builder which simplifies the process of establishing your dream blog. Blabber is also compatible with Gutenberg block builder, mobile-devices, retina-screens and all popular plugins. The layout of Blabber is fluid, meaning, it instantly reshapes to all devices for an always smooth and stable experience. You can also craft custom header and footers and truly personalize the entire Blabber design. Make your photographies pop and stand out a mile.
Angie

Whoever out there would like to start a photo-first blog, you better start moving things forward by employing the multi-concept Angie. This WordPress photography blog theme is all you need to enter the world wide space with a bang. Also, you do not need to seek help from a professional coder nor a designer. The simplicity and beginner-friendliness are on point, making sure everyone gets the most out of Angie without a hassle. Awesome featured posts, boxed and full-width layouts, five headers, ten demos, you name it, the list of goodies goes on and on. Angie is a resourceful web design that will assist you at realizing your photography blog in as little time as possible.
Enardo

Nowadays, you need to have no experience with web development and still have a chance to create the desired page like a pro. Thanks to all the amazing, predefined material, Enardo has in the bundle, you can also establish an inspiring photography blog. For a small investment, you can now come out with a must-visit blog which ensures an unforgettable experience. The layout of Enardo is very modern, clean and interest sparking, making sure it captures their attention in a split of a second. Needless to say, Enardo practices all the latest trends, ensuring a smooth and seamless site operation all the time.
Untica

Regardless of the blog, heck an online magazine, you would like to bring into being, you can do it speedily with Untica. Moreover, if you are on the hunt for the best WordPress photography blog theme, the chances are high that you will absolutely love Untica. With a set of four different home page design and multiple other ready-made layouts, you can experience almost instant blog realization. Have in mind, you can also make adjustment and edits to the default settings and personalize Untica accordingly. Whether you are a photographer or you are a fan of photography, start spreading your story with a touch of creativity by utilizing the powerful and practical Untica.
Vihan

If you are particularly involved in travel photography, Vihan gives you all the must-have to create a banging blog. This WordPress theme gets you going swiftly, with as little work necessary. Have in mind, all the predefined content is ready-to-use, already functioning as a full-blown page. Unlimited sidebars, RTL support, ten different post formats, over five hundred Google fonts and sticky header are just a few of the features that you gain access to when you decide to work with Vihan. By all means, customize and improve Vihan with the use of WPBakery drag and drop page builder and personalize the design accordingly.
Karis

Karis is a super smooth, clean, minimal and resourceful WordPress photography blog theme. Six magnificent home page styles await you, all creative, striking and interest-grabbing. Additional goodness of Karis contains cross-browser compatibility, retina screen-friendliness, 100% responsive and mobile-ready layout, child theme and unlimited colors to name a few. Karis is also optimized for both SEO and speed to ensure outstanding performance and quick rankings. If you would like to amaze and impress everyone who ends up browsing your content, make it happen with the implementation of Karis. No need to start from scratch anymore since Karis has you sorted out with all the necessary and then some.
Kotlis

To stand out from the competition, all you need to do is to pick Kotlis and all the rest becomes history. This stunning WordPress photography blog theme delivers a jaw-dropping web design which everyone can put into play. Thanks to the codeless web development process, anyone and everyone can get the most out of Kotlis right away. No need to have any past experience to see success at building a modern and responsive blog withKotlis. Some more features and functions of Kotlis include Instagram feed, search engine optimization, cross-browser compatibility, six different portfolios, scrolling effects and more. Be ready for speedy blog creation, thanks to the user-friendly Kotlis.
Newman

Newman gives you a solid canvas to work with when in need to hammer out a blog page. No need to start from the ground up anymore; just stick to Newman and let it take care of the majority of work for you. Page and footer builders, one click demo data import, social media integration, special effects and other treats make Newman an innovative and one-of-a-kind WordPress photography blog theme. No need to think twice, indeed, Newman also guarantees full flexibility and extendability, to ensure a smooth and steady operation of your nifty blog. That's that, get yourself involved in the blogging space with Newman and make a difference.
We really appreciate you for visiting PremiumCoding and reading this article! Now you might also want to check out
our Themes
here.