Best 21 Fashion Shopify Templates 2020
People are extremely interested in fashion these days. Millions of people try to express them through their clothes. For this reason, they pay their attention to various sources that can provide them with some brand new and stylish ideas. Of course, they can buy a plenty of fashion magazines in order to find out what others wear nowadays. Yet it takes less time to open a new tab in a browser and look through websites regarding fashion. By means of this very article, we want to gladden those who sell these very stylish clothes. In such a way, we decided to include 15 best Shopify themes that will definitely impress people who are interested in fashion.
Why Choose These Attractive Fashion Shopify Themes
1. If you want your visitors to get a remarkable shopping-experience, you should grab one of these eye-catching solutions. They have a wide range of plugins that will add tons of functionality to your future online-store.
2. You can be sure that you will get all essential elements to display your assortment in the best possible light. Moreover, your customers will have no problems while choosing the most well-favored goods because these Shopify fashion themes include multiple sorting options, wishlist, product banners, and many other amazing options.
3. It will be completely easy to promote your website on the web because a great collection of social options will allow people to share the most fashionable and stylish clothes on their social profiles.
To be completely honest, we can continue this list on and on. Yet it will be easier for you to take a glance at these ready-made solutions one by one. In such a way, it will take you nothing to decide which one is the most suitable for your future website.
Don't forget that all of them have vibrant and remarkable designs that catch the eye of every single person on the Internet. So, let's come back to choosing your ideal theme right now…
Zeexo

Zeexo is an all-around Shopify theme that you can employ for an array of different intentions. And if you are exclusively looking to create an online fashion store, you can do that, too, with the employment of Zeexo. There are tons of predefined demos at your disposal, ensuring everyone finds the right look out of the box. That said, you can freely go with the look of Zeexo as is, stuff it with your items and other custom content, and have an eCommerce page all set and ready to rock and roll. Zeexo also sports all the must-have layouts and elements of a successfully operating web store for your convenience. The possibilities are endless.
Capie

With seventeen home samples, Capie promises a quick start of something fresh. Keep in mind, you do not have to be a pro coder nor designer to have a chance and establish a killer web space for pushing clothing items to an entirely new degree. With Capie, anyone and everyone will have a little breeze putting together the online store of their dream. In the kit, you will find 66 sections, nine product pages, ten headers, five footers, three blog layouts, amazing filtering and auto-complete search, to name a few. Indeed, the design of Capie is 100% responsive, fast loading, cross-browser compatible and optimized for search engines. The shopping experience will always be on point with Capie.
Th Shop Mania
Th Shop mania is a page builder-based eCommerce WordPress theme. Compatible with Drag & drop page builders like Elementor, Brizy, beaver builder, Divi, and many more. It has a modern and minimalist design which will help you in creating any type of shopping website. Best suitable for designing websites like Fashion stores, Electronic shops, Medical stores, Cosmetic shops, Grocery stores, furniture shops, Watches stores, Shoe stores, jewelry shops, multivendor marketplace, etc. It has many many ready to import demos that will make your website design hassle-free.  The theme is integrated with WooCommerce, Th Advanced Product Search, Th Woo Cart plugin, Th Variation Swatches plugin, and the lead form builder plugin which will help you in designing a perfect Online Store.
Apparelix

Apparelix is a brand-new template that includes the right set of tools for your online-store. It is a perfect example of the ready-made solution designed for the fashion and apparel industry. It does not require any coding knowledge or advanced actions from you. An easy-to-use visual builder allows modifying your content without any limits. In addition to this, the package has many eCommerce options. You will find a product carousel, quick view, Ajax shopping cart, and many others. It also has multilingual and multi-currency support.
Beloria

Beloria helps you dive into the fashion industry with a striking eCommerce website. This versatile Shopify theme sports all the necessary to kick-start your project with style. And no, you do not need to have any experience to make it happen. Beloria is a beginner-friendly tool that will help you establish a powerful online store. It comes with stunning samples and an array of other features and functions that will do you well. Beloria also comes fully compatible with modern devices and web browsers, as well as fast loading and SEO optimized. In short, it is a solution that will help you manage and maintain an online business with ease.
Qurox

Qurox is another top-notch Shopify fashion theme that will push the boundaries even if you use it as is. With the amazing design, Qurox ensures a pleasant shopping experience regardless of the device. With the one click sample data import, you can start working on your project right away. Some of the very many features of Qurox are different product and shop layouts, fake sales, different headers and lookbooks, to name a few. You also get support and a lifetime worth of free updates, so you know your eCommerce website will run flawlessly for years to come. Tweak it, customize it, stuff it with your clothing product and call it a day.
MICHELIE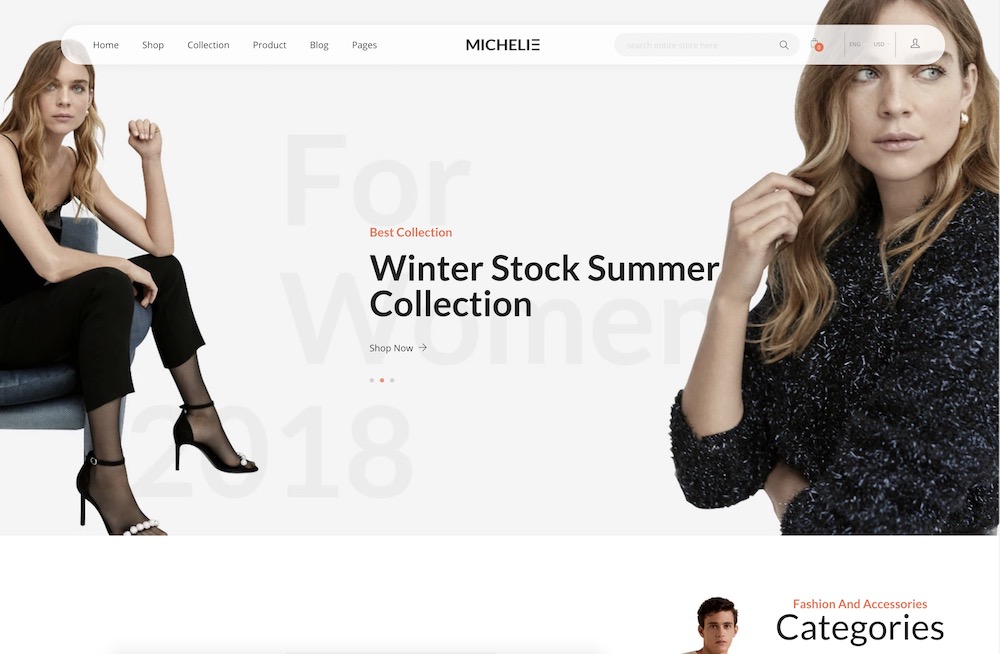 Start your online fashion store like a pro with MICHELIE. This contemporary, clean and trendy fashion Shopify template has you sorted out with all the necessities. From five stunning home page designs to all the other internal sections, elements and components, MICHELIE comes with all and everything. You also do not need to be tech-savvy to be able to get the most out of MICHELIE. Some additional goodies of MICHELIE include automatic price change, unlimited colors, product quick view, multi-currency, sticky header and newsletter pop-up. MICHELIE is also 100% responsive fast loading and optimized for SEO. With MICHELIE, you will manage and maintain a successful online fashion shop with ease.
Shopy – Creative Fashion Shopify Theme

A vibrant template that will provide your core audience with a memorable shopping-experience. It includes dozens of different layouts that will freshen the appearance of your website up. You can also gladden people with an Instagram shop and promote your fashionable online-project all over the web.
Blue Wave – Excellent Swimwear Shopify Theme
A vibrant theme that can be called a wonderful choice for online-stores that sell elegant swimwear. With the help of the eye-catching image slider, it will be possible to display your latest collections and products in the best possible light. Furthermore, you can take advantage of the customizable product banners to highlight the newest promos.
Mira – Minimalist Fashion Shopify Theme
Mira is an impressive template designed for those online-stores that present a wide variety of fashionable clothes. It comes together with such fully-functional elements as a featured Product, related product, product review, product share, and many others. In addition to this, it has multiple types of sliders that will allow you to showcase your important content.
Vanessa – Attractive Clothing Store Shopify Theme
Vanessa is a stunning theme that has a lot of options that will allow you to enrich a visual and functional aspect of your website. Check out its main features as a great search form, social options, collection catalog, and newsletter subscription. You can also pay your attention to a great product carousel in order to get more clients.
Smart – Marvelous Fashion Shopify Theme
A powerful template that will allow you to feel confident about a future success of your business on the web. Unlimited color options and remarkable Google Fonts will make it possible to tweak the look of your website within seconds. Moreover, you can showcase your recent products on the homepage in order to increase interest and sales.

Yellowbag – Wonderful Handbag Shopify Theme
A stylish template suitable for showing off a wide variety of handbags in the best possible light. Without a doubt, it will impress people with a user-friendly navigation and multi-currency functionality. Visitors will also be ready to compare products in order to choose the best ones.

Haletrix – Amazing Lingerie Shopify Theme
If you want to showcase your lingerie store in the most elegant way ever, you should certainly pay your attention to this solution. Thanks to a wonderful slideshow, you can easily make people take notice of your goods. Don't forget about blog articles in order to get more interest from your target audience.
Clothilla – Modern Clothing Store Shopify Theme
Clothilla is a good-looking theme that will do everything in its power to showcase your unique clothes. You will get a marvelous lookbook to make people definitely purchase your goods. In order to divide your clothes into different categories, you should take advantage of the amazing mega-menu.
Shoe Store – Stunning Fashion Shopify Theme

Present new trendy clothes using this tailor-made solution. It will be possible to select the best clothes in a few minutes thanks to a great product quick view and multiple sorting options. In addition to this, an excellent contact form will allow users to get in touch with you.

So Cloth – Convincing Fashion Store Shopify Theme
Show off your best-selling clothes with the help of this eye-catching and impressive theme. Engaging animation effects will make your website look more attractive. People will always be ready to write a few words about your goods using a great commenting system.

Craftekko – Beautiful Fashion Shopify Theme
An incredible template that will allow you to showcase different types of accessories in a stylish way. It will be possible to spread the word about your brand by means of powerful social options. In addition to this, it has an advanced search that will make it possible to find the needed items on the fly.
Sport Shoes – Remarkable Fashion Shopify Theme
If you want to get an impressive solution designed in a stylish way, you need to make use of this template. People will be able to see prices in their native currencies thanks to a wonderful multi-currency functionality. Moreover, such remarkable options as an Ajax Cart, Ajax Search, and brands section will make your website more powerful.
4Men – Impactful Men Clothing Shopify Theme
A professionally-looking template that will allow you to showcase men's clothing in the best possible light. In order to strengthen your online-presence, you should certainly take advantage of multiple social options. An excellent website slider will present your visual content in the most attractive way.
Hamintec – Bold Sneakers Store Shopify Theme
Hamintec is a powerful template that will present your footwear at its best. In order to highlight the newest goods, you can take advantage of the marvelous product badges. A great parallax effect will make your website look more attractive and bright.
Fleek – Fashionable Men and Women Clothes Shopify Theme
Fleek is a brand new theme that includes all essential options to show off the most amazing clothes. A wide range of web forms will allow people to communicate with you and find out more about your online-store. A bunch of social options will also have a positive impact on your target audience.
::
We are completely sure that your website will come into vogue if you build it together with one of these good-looking templates. They will capture the attention of all people who have something to do with fashion. We wish you to impress as many people as possible and thanks for reading!
We really appreciate you for visiting PremiumCoding and reading this article! Now you might also want to check out
our Themes
here.