10 Best WordPress Plugins On CodeCanyon 2018
Everyone starting out, even those who are in the game for a while, we always strive towards finding the best WordPress plugins. However, the fact of the matter is, there are so many out there, it is hard to choose the right one. Or a few. At the end of the day, your WP website will definitely be powered by all bunch of plugins and extensions to achieve full functionality.
While you might already find a heck load of articles written about the hottest and most popular plugins, we focused exclusively on the best and most popular one you can find on CodeCanyon. That said, you will definitely find this collection of the best WordPress plugins like none out there.
Predominantly, everyone is trying to push only the top of the top, like Yoast SEO for an example. While these are somehow considered a must-haves, there are still a ton of other plugins which are of great benefit.
With the best WP plugins you find on this list, you can do all sorts of things. First, you can scrape other's content and have it published on your website on autopilot. Second, you do not have to worry about your dropshipping business and flawlessly connecting it with AliExpress. Third, your site's performance will be of the highest standards. There is more to it but that, we will find out soon. Now let's see the power and the magic that these WordPress plugins can do for your page.
Scrapes

Instead of doing it all on your own, here is a unique WordPress plugin that does all the tedious work for you. I am speaking about scraping the world wide web, finding all the best content relevant to your niche. Scrapes is, in brief, a web content crawler and an auto-publishing WP gem that saves you a whole bunch of time. You are now able to easily copy content from other websites and have it published to your website. On autopilot. Do it once or do it multiple times, that is totally up to you. For your information, with Scrapes' scheduling, you can all set it up once and it does the work for you all day long every day.
With Scrapes, you can scrape almost anything, from currency and weather to videos and music. To continue the hype, scrape flights, recipes, tracking data, affiliate product and latest news and job offerings. Of course, there is plenty more you can do with this fantastic plugin. Scrapes also comes fully equipped with how to videos to get you familiar with how things work. Not only that, video tutorials are tailored to sites like YouTube, Envato, Amazon and AliExpress. You can do it all on your own in a breeze. The user experience is fun and very friendly even to those without any prior skills and experience.
Kaswara

Like building with Visual Composer would not already be easy as pie, Kaswara makes things even easier. Putting together the desired web design has reached the beyond expectations level. You will be impressed by how much Kaswara can do for you and your website. It is mind-blowing. Exclusively crafted addons for Visual Composer with a ridiculous amount of modern shortcodes is all that you need to know.
The possibilities with Kaswara are endless and building any kind of design is very possible. It is not just possible, you are able to put it together in little to no time. But let the numbers do all the talking. In the pack, you will find 45 elements and over 550 shortcodes. If I were to start typing all of them down, you might not even be interested in it anymore. That said, here are a few to give you a better idea how powerful this top WordPress plugin is.
When unlocking the plugin, there you will find shortcodes for price boxes, animation effects, info box, image swap and hover image. Along with all these ingredients, Kaswara also treats you with a set of page demos. These will speed up the crafting process of your web design's ideal look. A few of the additional features of the Kaswara plugin are a live designer for contact form, shortcode manager for more control and Google Fonts. Look no further when you would like to have the most practical tool for deploying web pages.
WP Mega Menu Pro

It is crucial to ensure visitors a comfortable navigation across your whole website. Not only will they find particular content quicker, it will also boost user experience. One of the best WordPress plugins which helps you achieve superb results is WP Mega Menu Pro. There are 14 predefined templates which you can use right off the bat. Implement them into your page as they are or feel free to improve on them. Effortlessly, you can customize the menu to fit your requirements precisely. No need to be limited with the plugin rather play with the functions and construct a one-of-a-kind navigation.
You can choose between horizontal and vertical menus which appear as flyout or megamenu type. The drag and drop widgetized builder makes your life a whole lot simpler while still attaining pro-level results. And yes, no coding skills are required. With the grouping method, you can truly build a complex, yet simple to use, menu. Assing columns to groups when selecting multiple type group. Inside the menu, you can add images, category, excerpt and the author name when we are talking about blog posts. We could say that you can craft a micro blog post within the Mega Menu itself. This way, readers know exactly what they get when clicking the article. When in need of legit navigation, WP Mega Menu Pro is your best pal.
Aliexpress Dropship for WooCommerce

Dropshipping and eCommerce go very well together. As a matter of fact, it became so popular it almost feels like everyone is doing it. And now, you can do it, too. With the practical Aliexpress Dropship for WooCommerce WordPress plugin, you can make it happen quickly and efficiently. No need to be further looking for the right tool to get your eCommerce website working without a hitch. The plugin is exclusive for one of the biggest online marketplaces in the world, AliExpress. Connecting products with your online store and shipping them out to clients has never been easier. You can do it in just a matter of clicks and have a ton of fun doing it.
Dropshipping is a great business strategy that almost anyone can start. And you do not have to deal with packaging and shipments. The merchant does all the work for you. All that falls on you is to have a fully responsive website, drive targetted traffic to it and do customer service to some extent. Theoretically speaking, it is easy but in reality, it might not be quite like so. With special tools and equipment, you can make it all work out way simpler than you may think.
Aliexpress Dropship for WooCommerce plugin is a must-have if you run an online store on WordPress. Pretty much, all the stuff that AliExpress offers on the site can now be available in your store This also goes for stuff like shipping methods, product variations and other whatnots. It also comes with a Chrome extension for importing products while browsing the online marketplace giant.
Swift Performance

In the modern day we are living, each website should ensure the best performance possible. Especially when speaking about mobile users. And we all know that mobile and tablet traffic already exceeded desktop traffic for the first time in October 2016. Smartphones and tablets are becoming the first you-to-world-wide-web connection, period.
With the best WordPress plugin in the game, Swift Performance provides innovative and intelligent caching for your website. Key features are eliminating render blocking assets, image optimizer, CDN support and extremely fast cache.
Swift Performance has a built-in image compressor which squeezes JPEG and PNG photos for improving site's speed. As far as the DNS support goes, you can state hostname that you will use for static resources. You can add up to 3 different hosts for CSS, JS and media files.
What is the best part of Swift Performance? The developers went one step further and offer you a free trial. You can test it first and see what a positive impact it has on your WordPress site. Only then, when fully satisfied, you can jump in with both feet and get your website's performance to the level 11 24/7/365.
Premium Stock Market Widgets

If you plan to launch a website which is related to the financial markets, Premium Stock Market Widgets is the essential WordPress plugin that you need. Let it be a personal blog or a financial news site, displaying stocks is almost a must. Even if it is a corporate business website, displaying share price of your public company is of benefit. Add data like stock, commodity, currency and EFT quotes to your site or blog post quicker than saying ABC. There is no technical knowledge required to make it happen.
You can easily configure all the details in the WordPress administrator, Widgets area. For your information, here is a selection of widgets available: Inline, Box, Spark Charts, Comparison and Scrolling Ticker. Each widget then comes loaded with several templates and color schemes to find one which is best suitable for your page. In addition, you can also define refresh intervals for the Premium Stock Market Widgets plugin. This automatically updates the data without the need to refresh the site.
Smart Footer System

While footer is one of the last things a guest sees on your site, it is very important to have a solid one. Not only that, predominantly, all sites have quite a similar approach to the footer section. Do you want to make it unique and get your website to stand out from the crowd? If so, here is Smart Footer System WordPress plugin. It offers you 9 modes to show your footer and make it shine with a whole new light. However, the footer you wish to have can be tailored specifically to your site with ease. Build it with your favorite page builder and have complete freedom doing it. Smart Footer System is insanely flexible and will help you engineer highly practical footer section.
Just like your website should be, SFS is responsive, what makes it appear beautifully on mobile devices. It autodetects post types, supports tons of animations and allows you to show and hide it. The latter especially comes handy for smartphone and tablet users.
For the utmost practicality, engineers tested Smart Footer System with more than 10 different page builders. That said, it is compatible with Visual Composer, Genesis Framework, Divi, Beaver and Live Composer. There are more than 100 styles to choose from. Customize it exactly how you want it.
WordPress Flipbook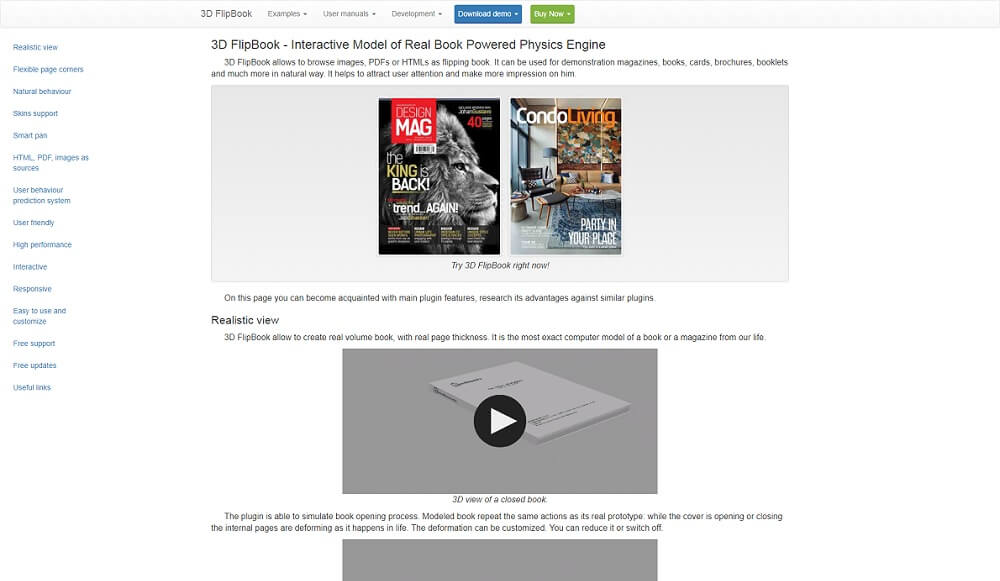 To showcase content in a fun way, a flipbook is one of the ways of doing it. I mean, who does not like to flip through a magazine, right? You can achieve the same effect as if you would do it physically with WordPress Flipbook plugin. There are even sound effect included to make it feel even more real.
WordPress Flipbook comes great for magazines, booklets, books, brochures and the like. By allowing users to browse images, PDFs and HTML like a flipping book, you grab their attention instantly. It definitely leaves a deep impression on the reader.
The plugin supports RTL languages and is fully translatable. Thumbnails help to access desired content easier and quicker. Moreover, deep linking takes care of managing the flipbook through URL parameter. Accomplishing a realistic view with WordPress Flipbook is a no brainer. Your creations will look like you would computerize physical book or magazine. For even more realistic feel, software is built so it interacts with the user. Meaning, it is possible to drag the flipbook and even throw the pages together. Just like you would do a magazine or a newspaper during the coffee break.
Scroll Magic

Scrolling can do so much more for you than just, well, scrolling. It can have a very positive effect on the overall user experience of your website and have the user hooked immediately. All the fancy stuff you see others use on their pages, you can now implement into yours with Scroll Magic WordPress plugin.
There is a variety of things you can do with the plugin.
First, you can trigger animations or synchronize them to the scroll movement. Let an animation fire at a certain section for extra entertainment, as well as to act as an attention grabber.
Second, sticky elements which you can pin at a specific scroll position. You can either do it indefinitely or limit it regarding the scrolling progress. Whatever suits right to you or test it and see what works best for your audience.
Last but surely not least, add parallax effects to your page and luxuriate guests.
With the simple to use Magic Editor, you can build almost any sort of animation you would like to introduce to your page. To get a better idea what Scroll Magic plugin can do for you, feel free to check out live preview. Of course, you do not want your page to look like the live example. There is way too much stuff going on that will distract the visitor and have him or her leave early. Have a perfect blend of everything for a top-notch UX.
moZable

Although your websites should be responsive and mobile-friendly anyway, you might want to expand your WordPress website to a mobile app. But how can you do it since you do not want to spend a large budget on a developer to do it for you? Surprisingly, there is a solution that answers all of your questions.
Meet moZable, an instant mobile app generator. For the most part, that is all you need to know since it is pretty self explanatory. However, indeed, we will speak more about it. moZable works with all versions of WordPress and transforms your website into a mobile app. Moreover, you can create both Android and iOS apps which is kinda cool, don't you think? That is correct, fully functional apps which you can later publish on Play Store and Appstore. Who even thought you would once become an app "developer?"
The installation process of moZable WordPress plugin is quick and effortless. It does not require any coding knowledge after all. The tool also comes with push notifications and showing your website's content real-time. But first, experience the demo version and see moZable in action for better understanding how it works.
We really appreciate you for visiting PremiumCoding and reading this article! Now you might also want to check out
our Themes
here.